2010-12-08
AMDA Emergency Bulletin #2: Cholera Outbreak in Haiti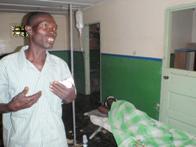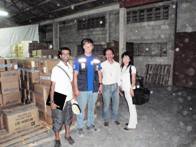 AMDA's emergency relief coordinator arrived in Port au Prince in the evening of Dec. 2nd. He travelled to Saint Marc in Artibonite on the following day and visited the regional peripheral hospital (Al' Hospital Pierre Payen) and two Cholera Treatment Centers (CTCs) run by MSF and Samaitan's Purse respectively. According to the observation by the AMDA's coordinator, there were enough medical supports or medicines for cholera in that region.
The AMDA's coordinator returned to Port au Prince and worked with Haiti Medical Association and WHO/PAHO on Dec. 3rd and 4th to prepare for the launch of AMDA's medical activity for cholera in the southern part of Haiti.
Dr. Suganami (the president of AMDA Group) and a Japanese nurse arrived in Haiti on Dec. 5th, followed by the arrival of one infectious disease expert from Japan on Dec. 6th. On Dec. 6th, 324 boxes of medicines were delivered from Santo Domingo to Port au Prince by a land route. The transportation arrangement was made by an AMDA's coordinator based in Dominican Republic, and the cargo was transported in collaboration with the Haitian Embassies in Dominican Republic and Japan.
All of the AMDA's staffs (two doctors, one nurse and one coordinator) moved to Fonds-des-Negres, Miragoane Arrondissement, Nippes Department on Dec. 7th to start medical activity for cholera in the south. AMDA team arrived at Salvation Army Hospital in Fonds-des-Negres which had already treated 16 cholera patients in total.
According to the Ministry of Health in Haiti, 1,882 deaths and 84,391 hospitalized cases were reported as of Dec. 3rd.