2014-12-16
Report of Organic Agriculture Training at AMDA Farm in Malino, Indonesia
AMDA Organic Farm opened in Malino, South Sulawesi, Indonesia in February 2014. An Indonesian trainee, who completed organic agriculture training program at AMDA Farm in Shinjo Village, Okayama in 2013, has been operating the farm in Malino with a local farmer.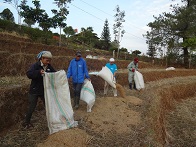 &nbsp
To improve local farmers' knowledge and skills on organic agriculture, AMDA has organized several workshops in Malino in collaboration with Shinjo Village. Following the first workshop held in February 2014 in Malino, an organic agriculture professional from Shinjo Village and two AMDA Food Program staff organized the second workshop from November 14th to the 17th, 2014.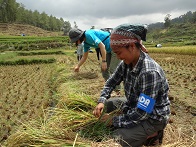 &nbsp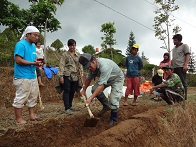 During the workshop, the team introduced "the method of producing wood vinegar", "the usage of wood vinegar", "the different ways of planting between rainy season and dry season", "the usage of local micro-organism as a fertilizer" and "the method of drying paddy under the sun". They also reviewed the methods of producing compost and rice husk charcoal that they had learned from the previous workshop.
The participating local farmers were interested in the new methods and knowledge they had acquired through this training workshop, and they each said they would like to try them on their own farm.
On the final day, the team pounded "mochi" rice-cake in a Japanese traditional way with the participants, neighbors, and local partners. They shared the fun of pounding together, and the taste of mochi.
AMDA Food Program's aim is to improve the harvest with organic agriculture method and disseminate the concept of "Food is the Source of life".