2014-12-12
AMDA and TaiwanIHA join hands for free Dental Camps and Health Education in Sri Lankan hill stations
&nbsp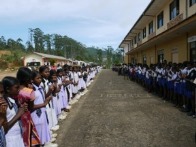 After the first dental mission in Arawa, May 2014, AMDA returned to the hill stations of Badulla at Bandarawela and Passara. This time AMDA joined hands with TaiwanIHA - a long-term partner of AMDA. Dr. Croos who is a senior dental surgeon from Badulla District Hospital, once again, helped to organize the mission under the Regional Director of Health Secretariat (RDHS) office in Badulla.
Thanks to TaiwanIHA two dental surgeons from Hualien Tzu-Chi Foundation Hospital and one TaiwanIHA representative joined the Sri Lankan team of 6 dentists and 10 dental assistants and technicians lead by Dr. Croos to provide the free dental health camp. We had two full day programs for school students at two different schools in Poonagala Tamil High School in Bandarawela and Wawekelle Tamil Primary School in Passara respectively. In both days two mobile bus dental units belong to Badulla RDHS office were in action. Taiwan team also brought a fully equipped mobile dental unit that was used both days and then donated to the RDHS Office, Badulla.
Last month AMDA conducted relief activities at the same Poonagala School for people affected by Koslanda landslide. Now the school is at full function and there were about 930 students who benefited from our dental mission.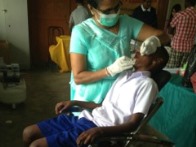 &nbsp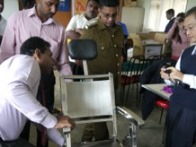 On the second day, the 5th of December we visited a small primary school at Wawekella village, also a tea plantation area. There were about 78 students and 5 teachers. The village had a population of about 850 and along with the students their parents also made use of our free dental camp. Compared to Poonagala, Wawekella had many students with carries and tooth decay due to their poor habits of dental care.
According to Dr. Croos from the RDHS, Badulla there are 60-65% of school children suffer from dental problems and out of the diagnosed diseases by Medical Officer of Health (MOH) 95% are dental related. Due to this alarming statistics the RDHS office concentrates and promotes dental care at schools. Dr. J.C.M. Thennakoon, RDHS of Badulla and Dr. Croos thanked TaiwanIHA and AMDA not only for conducting dental programs for students but also using most of the fund to procure equipment that are necessary for the school mobile dental program in Badulla district. Some of the equipment were donated by the Tzu-Chi hospital of Taipei.
As part of the mission we also included oral hygiene education by Dr. Croos, followed by a demonstration of how to brush. Every student was also presented with a set of Toothpaste and brush.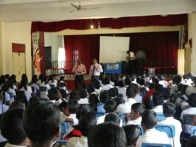 &nbsp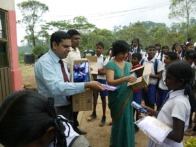 At the end of the program Taiwan team officially handed over the donation items and equipment that were brought from Taiwan and bought in Sri Lanka on local official's request to Dr. Thennakoon, RDHS of Badulla at her Office. On receiving, Dr. Thennakoon sincerely thanked AMDA and TaiwanIHA for donating the items that are vital for their future mobile dental program. She awarded the members of the Taiwan team with an appreciation plaque. The program was concluded with the closing remarks from Dr. Croos at the donation ceremony and then later on with a farewell dinner for the visitors, hosted by AMDA Sri Lanka.