2014-11-17
TaiwanIHA & AMDA's Dental Mission Hakkari, Turkey
In collaboration with TaiwanIHA, AMDA completed its first Dental mission in Hakkari, Turkey. Hakkari is located in the far southeast corner of Turkey bordering with Iran and Irak. Hakkari province has a total population of about 82,000 and about 52,000 of them live in the capital city, Hakkari.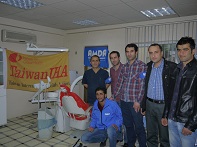 &nbsp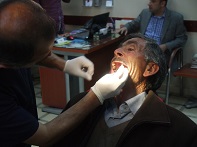 AMDA has been working in Hakkari since 2011 just after the Van earthquake. This time AMDA decided to conduct a dental mission, joint in hands with TaiwanIHA who is a long-term reliable partner of AMDA in medical missions. During its school projects in Hakkari over last 3 years AMDA noticed the poor condition of dental health in this region and decided to conduct a dental mission. The Oral health is in such a state that as young as 40 years of age people require a total prosthetic crown. Most of the population in the region is sheep/goat farmers and meat and diary along with excessive sugar is a significant part of their diet while vegetables takes place next to nothing.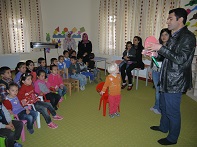 &nbsp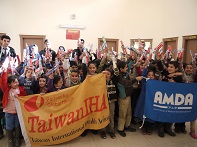 The dental program was conducted over three days from 13th ? 15th of November 2014. The program was spilt into two main activities; (1) Provision of Dental Prosthetic Crown and (2) Education on oral hygiene. The Prosthesis program was conducted with the local dental surgeon Dr. Necmettin Aydermir and his staff (picture above). While the dental education program was held at a local school with the help of senior dental technician Mr. Orhan Aydermir.
9 people who could not afford the procedure were selected from the community to receive total or partial dental prosthetic crown. Over the three days they had their initial consultation, excavation and measurement made in order for the preparation of their dental mould and then the crown. All 9 beneficiaries told that they have no means to go through such expensive procedures with their income as an ordinary sheep famer. They were very happy and expressed their heartfelt gratitude to AMDA and TaiwanIHA and thanks to this program they will be able to chew and taste food once again.
On the other hand the dental education program was conducted on the 14th of Nov. at Durankaya Primary School in Durankaya village, about 40 minutes drive from Hakkari city. The school had 93 students aging from 5 till 11. Dental Technician Mr. Orhan Aydemir conducted the dental education with the help of a Nursing student Ms. Bilnaz Kacar, who is also receiver of Suganami Scholarship. At the end of the education/demonstration program each students were presented with a set of toothpaste and brush.