2010-11-09
AMDA Strengthens Ties With Turkey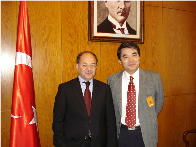 From Oct. 17th to 27th AMDA President, Dr. Shigeru Suganami, visited Turkey to strengthen ties with the country in the scope of establishing a disaster response scheme; realizing Turkey's growing presence as a key player among the Islamic nations in Central Asia and Middle East.
In the meeting held with Turkish Health Minister at the parliament, the minister kindly agreed to back up AMDA and introduced Dr. Suganami to the Head of Ankara Provincial Medical Bureau for Emergency Medicine. In addition to learning their excellent emergency response system and its proven performance, Dr. Suganami was very much moved that the head promised to accept AMDA's relief team in case of disasters.
Since 1999's catastrophic earthquake in western Turkey, various measures have been taken to consolidate a foothold in emergency disaster management; whether it be natural or man-made. Dr. Suganami also met a Kurdish MP and introduced him to AMDA's relief work for 1989's Kurdish exodus from Iraq that sought asylum in Turkey. The MP promised his further cooperation with AMDA and expressed his warm invitation to his homeland. Dr. Suganami sincerely hopes to contribute to Kurdish people that inhabit across five countries in the region.
The ties of friendship between Japan and Turkey dates back to the end of 19th century when the local villagers in Wakayama, Japan saved the crews of Turkish battleship that wrecked off the coast. This memorable deed was passed on to this day which, in return, led the Turkish government to help the Japanese evacuees flee from Iran at the time of Iran-Iraq War in 1985.
As seen in Turkey's active emergency assistance overseas as of late, the conspicuous momentum the country has gained in recent years is surely adding confidence in all facets of the nation's affairs. Using this occasion, AMDA eagerly expects to ensure another legacy of friendship in the long history of two countries in the time to come.