2010-11-04
AMDA Emergency Bulletin #1: Earthquake and Tsunami in Sumatra, Indonesia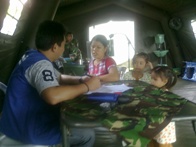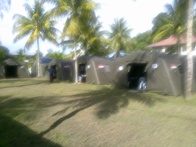 (AMDA Indonesia team in North Pagai, West Sumatra)
AMDA started emergency relief activity for victims of the huge earthquake and tsunami that occurred on the evening of 25th October off the western coast of Sumatra, Indonesia. Medical staff were dispatched from AMDA Indonesia as soon as the extent of the damage became apparent.
The 7.7 magnitude earthquake that occurred 280km off the Mentawai Islands, west of Sumatra, was followed by at least 14 aftershocks and a huge tsunami which reached 3 to 4 meters high. On North and South Pagai Islands, where the damage was worst, the tsunami wave reportedly swept several hundred meters into the islands, leaving more than 10 villages completely devastated. According to the National Disaster Management Authority of Indonesia, the death toll from the tsunami as of Nov. 1st was 431, with 96 missing.
Recognizing the scale of disaster, AMDA Headquarters decided to start emergency relief activity. Two medical doctors and a nurse were sent from AMDA Indonesia. They left the AMDA Indonesia office, in Ujungpandang, Sulawesi, on the 29th and arrived in North Pagai island, which was only accessible by boat, via Padang and Bungus, on the 31st. On the day of arrival, the team provided medical services in Puskesmas Sikakap (Sikakap public health centre), where 120 patients had turned up hoping for help. On Nov. 1st, the AMDA medical team moved to a field clinic operated by the army medical service unit, and started helping medical services there. Due to bad weather and high waves, access by water to the western coast of North Pagai Island, where the damage was worst, is difficult. Cooperating with other aid teams, the AMDA team is trying to collect information on travelling by a land route to the worst affected areas.