2010-10-12
AMDA Ophthalmologist and Cataract Mission in Mongolia 2010: Second Mission
AMDA Headquarters has been engaged in two ophthalmic services, cataract surgery and optometric training in Mongolia. As follow-up to the first mission in June 2010, AMDA sent a team of Japanese medical professionals to Ulaanbaatar for after-surgery examination and training at the end of August. The mission also held interviews with those who had the cataract surgery, and performed vision tests for children with weak sight to prescribe spectacles that fit them properly. Wherever they visited, the mission was received with typical Mongolian hospitality, and was impressed by the words of appreciation from the beneficiaries of the services.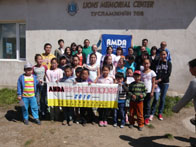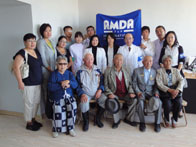 As the operations were given to those who were involved in 1939's Battle of Khalkhin-Gol (the Nomohan Incident) during the Soviet-Japan border war, it was impressive that the elderly men who had operations in June were wearing medals commemorating their contribution to the battle. The cataract surgery was held as part of AMDA Soul and Medicine Programme (ASMP), which is aimed at learning from the past and contribute to world peace.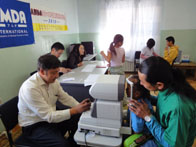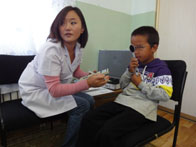 On the first day of their visit, the mission performed vision tests for children with weak sight and conducted health examinations for elderly people at the Memorial Centre of Okayama Kohraku Lions Club in Danbadalger district. At the same time, a physician member of the mission performed health examinations for the elderly people in the locality. Thanks to the Mongolian interpreter who was fluent in Japanese, the physician could give sound advice to each person in such a warm atmosphere that elderly people started telling old stories to him.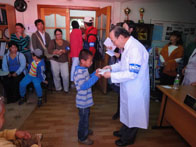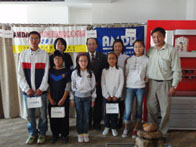 On the next day, there was a ceremony of donating spectacles to the children who were given a prescription in a large optician in Ulaanbaatar. Upon receiving their new spectacles, the children were shouting for joy because of the clear sight they had gained.
The mission also visited the homes of those elderly people to assess their postoperative condition after the cataract surgery. All of them were doing well and welcomed the mission with local treats. A ninety-year-old woman, one of the clients, was so happy that she could see things again and was waiting for the mission to arrive, preparing buuz-a type of steamed dumplings filled with minced lamb.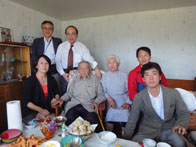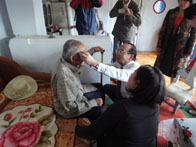 At the Third National Hospital where the operations were held in June, the mission provided postoperative examinations and performed general health examinations on those that went through the surgery; their recovery has been well. In addition, a small ceremony was held participated by the Mongolian doctors engaged in this project.
"Please help as many people as possible to recover their sight", said an eighty-three year old woman to AMDA staff. Such acknowledgment gave a sense of contentment to AMDA staff that the aid has been a great success and is welcomed by the people of Mongolia.