2010-09-07
AMDA Emergency Bulletin #1: Floods in Pakistan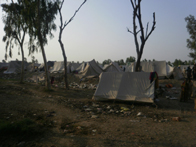 Due to the massive floods caused by torrential rain that struck Pakistan in late July, UN OCHA reported that the affected population has topped 18,000,000 with the death toll exceeding 1,600 and more than 1,240,000 houses were destroyed (as of Sept. 1st.) As a whole 79 out of 122 provinces in Pakistan have been affected, and half of the affected population is in need of life-saving assistance.
To battle this catastrophic situation, AMDA has dispatched the first team of AMDA Multi-national Medical Mission (AMMM) to Pakistan. The first team, comprised of two doctors from AMDA Afghanistan, arrived in Islamabad on Sept. 2nd and held a meeting with National Rural Support Programme (NRSP), AMDA's local counterpart, to determine the work site and discuss further activities.
Since Sept. 6th, the team has started working at Azakhel camp in Nawshahra near Peshawar in the northwest. The area is severely damaged by the floods and the worsening of sanitary condition is feared as massive outbreak of mosquitoes is said to be occurring. The area was considered appropriate for AMDA's Afghani doctors to work in as there are a number of Afghani refugees residing in the region.
Following the dispatch of the first team, AMDA is planning to send more teams from AMDA HQ (Japan), AMDA Bangladesh and AMDA Indonesia. After consulting with NSRP, considering the public security of the work sites, the teams will be sent to Thatta in the southern province of Sindh to conduct mobile clinics and other medical assistance.