2010-08-30
Disaster Rehabilitation through Sports-AMDA Sports Project in Haiti - Diary III
On August 19, 2010, the second day of AMDA's Sports Exchange for the rehabilitation of Haiti was ready to kick off! Surpringly, the three teams showed no trace of fatigue as they had the same will to win as the day before.
However the agenda was quite different: now that the tournament was over, adults also were part of the game! AMDA staff, volunteers and coaches got together to arrange teams and compete against the youth. Regardless of their age, gender or nationality, everyone took the competition very seriously. After the matches, medals were distributed to all participants and the Japanese team gave to their competitors presents that they brought from Japan.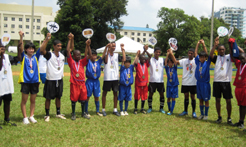 After a well-deserved lunch, the youth of the three countries were invited to share information on their respective cultures and histories. After the opening speeches of Honorific guests (Ambassadors of Haiti and Japan in Dominican Republic), AMDA'S professional prosthetist gave details on AMDA's activities in Haiti to help reconstruct both psychologically and physically the people of Haiti.
The Haitian participants made a demonstration of karate. The Japanese members from Hiroshima delivered a message of Hope to their Haitian competitors by explaining how the world-famous city managed to recover after the A-bomb. The Dominican students performed martial arts as well as some traditional dance (meringue). The last part of the cultural exchange was made by Dr.Suganami himself. AMDA's founder and President was warmly applauded after having played the Japanese traditional flute to convey a message of hope and peace between the three nations.