2010-08-23
Disaster Rehabilitation through Sports-AMDA Sports Project in Haiti - Diary I/II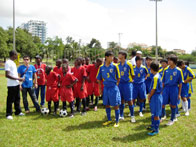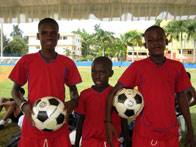 On 18 Aug 2010, the soccer event organized by AMDA took place in Universidad Autonoma de Santo Domingo (UASD), aiming at cheering up the Haitian children that withstood the earthquake that struck Haiti earlier this year.
The young Japanese participants accompanied by AMDA left Tokyo on Aug. 16, 2010 and arrived at Santo Domingo on the afternoon of the 17th. Haitian and Japanese students met for the first time at the hotel. At dinner, Haitian students greeted in Japanese, which broke the ice. After that, students performed a song of their own country.
On Wednesday the 18th, the tournament was ready to kick off! After, the opening ceremony with the presence of guests of honor such as Ambassadors of Japan and Haiti in the Dominican Republic as well as some representatives of the Dominican Authorities, all participants mourned for the victims of the earthquake in Haiti, and gave prayers before the game.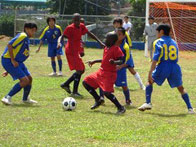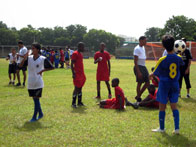 1st Game: Japan vs. Haiti
The Haitian team had a very aggressive game, which showed how determined they were to win the game. Coaches were giving instructions with a loud voice, and players were running all over the field and tackled each other. Japanese eventually won (5-4).
2nd Game: Haiti vs. The Dominican Republic
Even if it was their second game in a roll, the Haitian team was as determined as in the first match. All Dominican members were under 15, but they all were taller than Haitian participants. Dominicans won 7-3.
3rd Game: Japan vs. The Dominican Republic
Japanese players had hard a time competing with the Dominican Republic whose players are taller. Both teams remained focused until the end of the game. In the end, the Dominican Republic won 2-5.
During the breaks and after the tournament, students from the three countries managed to communicate with the assistance of volunteer interpreters. Despite the language barrier, they were able to share on their cultures and their differences. After AMDA completed its emergency relief activities for the victims of Haiti earthquake, the NGO has implemented a double project to physically help the amputated victims (production of prosthetic legs) and psychologically support the traumatized Haitian youth (through the joy of sports and cultural exchanges).