2010-06-18
AMDA Soul and Medicine Program (ASMP) in Corregidor Island, the Philippines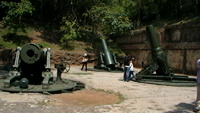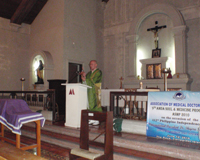 AMDA conducted its AMDA Soul and Medicine Programme (ASMP) in the historic island of Corregidor in the Philippines on 12th of June 2010. This is the 9th ASMP in the Philippines and took place in the historical place where there were so many casualties during the Second World War.
The island also known as "The Rock" was the target of Spanish, American and Japanese soldiers due to the significant location of the island in the Manila Bay. The 9th ASMP was organized by AMDA-Philippines with the help and fund from AMDA Headquarters in Japan. In all, about 40 participants took the 1.5 hours boat trip from Manila and stayed in the island overnight to participate in the event.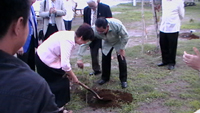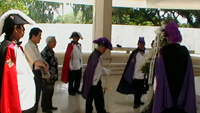 Due to the significance of the place and its history, the president of AMDA attended the ceremony accompanied by president's office staff and a reverend from Sairenji Temple, Jodo Shu, Nagoya, Japan. The multi-faith prayer was held at San Jose Church in Corregidor and represented by Catholic and Christian, Bhudhist and Islam leaders.
The ceremony started with a floral offering at the Dome of the Pacific War Memorial Shrine dedicated to the fallen soldiers of Corregidor in the morning and Planting of Trees of Peace in the afternoon continued by the memorial mass in the evening. The group also visited the Japanese Peace Garden there. In his keynote speech the president of AMDA International, Dr. Shigeru Suganami, highlighted the importance of learning from the past, Sogo-Fujo spirit, coexistence of diversity and world peace.