2013-12-20
Responding to the Disaster of Typhoon Haiyan in the Philippines 9
On December 5th, AMDA team moved from Manila to Ormoc, Leyte Island by air and sea, and made an hour drive from port of Ormoc to Montebelio Pluto, Kanannga. They distributed supplies, such as rice and canned food to 54 families / 150 persons.
AMDA team had visited this area and did the medical relief activities on November 19, 2013. At the time, many people lined up at the AMDA mobile clinic as it was the first medical support for them.
One month has already passed since the disaster of Typhoon Haiyan and they found that the volume of support differs from place to place. AMDA team decided to visit this area again not only to deliver food relief but also the message of "We have not forgotten about you".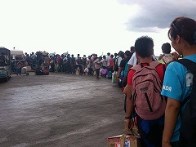 In addition, AMDA team prepared Christmas presents such as basketball and basket hoop, coloring book and crayon for children. There was the round of cheers from not only children but also adults as soon as they started to set up a basket goal and made simple basketball court.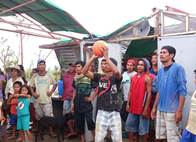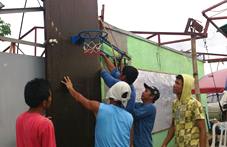 AMDA decided to dispatch a nurse as the seventh team to conduct any necessary medical relief activities for the people in need. She left Japan to Manila on 7th of December and joined with AMDA team already on the ground.
According of the repot of National Disaster Risk Reduction and Management Council dated on 6th of December 2013, 5,786 individuals were reported dead, 26,233 injured and 1,779 are still missing. A total of 2,379,887 families / 11,241,237 persons were affected.