2010-03-11
AMDA Emergency Bulletin III: Chile Earthquake Emergency Relief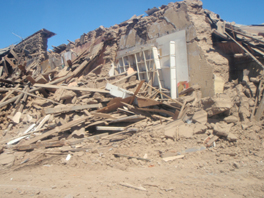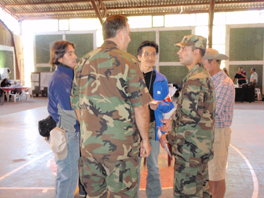 On Mar. 7th, AMDA's relief team has arrived in Concepcion, the devastated capital of Bio Bio Province, Chile.Since the team's departure from Santiago, the team has visited four places, namely Talca, Concepcion, Talcahuano and Penco.
Talca:
On its way to Concepcion, the team stopped by at Talca which is about six-hour drive from Santiago. The team visited the military base where an ER office is established at the gymnasium. The military officials kindly agreed to assure the security and logistics of AMDA's relief effort and offered to provide necessary assistance including the provision of vehicles, personnel and camping equipments if needed.
The team also had a meeting with a local NGO in assessing the local needs and came to the conclusion that it is requisite to donate relief supplies to the infants in impoverished districts.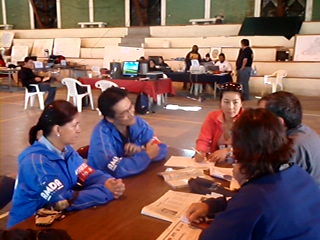 Concepcion:
In Concepcion, many of the large buildings have been collapsed around the city and people were lining up for the distribution of relief supplies by the government. The security in the area has been tightened due to burglary cases, hence armed security guards and military men were seen at the supermarkets, banks and gas stations.
The team visited Hospital Clinico Regional de Concepcion, the state hospital of the region. The hospital emphasized that paramedical personnel including nurses, lab technicians and assistants are most needed along with medical equipments and medicine. Despite the severe extent of the damage, the hospital is still unable to grasp the actual state of the disaster victims except for its outpatients.
Talcahuano and Penco: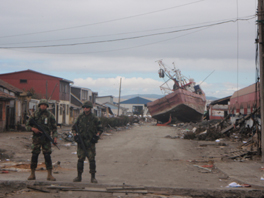 The local people suggested that most help is needed along the costal regions, Talcahuano and Penco in particular, that were heavily devastated by the quake-induced tsunami. While the stench filled the air in Talcahuano (twenty minute-drive from Concepcion), the appalling view of destroyed houses, capsized ships and washed-away fishing nets caught the eyes of AMDA personnel.
The team visited local families and assessed the needs and health conditions of the victims. Water and food supplies were relatively fulfilled, however, sanitary goods such as powdered milk, diapers as well as children's clothes were in short supply. One of the local children was diagnosed as upper respiratory infection. A number of residents seemed to have been suffering from insomnia and anxiety for days due to excessive stress under such extreme condition.
In Penco, which suffered the biggest damage in the area, 90% of the houses were submerged. Their household goods including appliances, beds and furniture were all wet and reusing them seemed hopeless.
AMDA's Further Initiative:
As described earlier, AMDA team is planning to conduct mobile distribution of relief supplies to the children and infants in Penco for a certain period of time.Meanwhile, the team will continue to be in touch with local humanitarian organizations and authorities in seeking further collaborative assistance.