2010-03-02
AMDA Emergency Bulletin I: Chile Earthquake Emergency Relief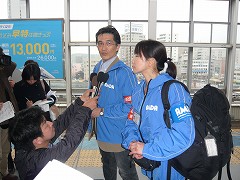 In response to the earthquake that struck Chile on Feb. 27th, AMDA has begun its emergency relief.
According to the news source, the 8.8 quake devastated the province of Bio-Bio and other neighboring areas, claiming more than 700 lives with approximately two million people being affected through out the country. The quake destroyed buildings, roads and bridges in many locations and basic infrastructures such as electricity, water or phone lines are cut. A number of deaths have also been reported in Santiago, the capital of Chile, as well as O¢Âª®Higgins, Araucania and Valparaiso.
To confront this catastrophic situation, on Mar. 1st, AMDA Headquarters sent two personnel (one doctor and one coordinator) from Japan to Santa Cruz, Bolivia, where they will be joining the team from AMDA Bolivia. The joint relief team will be heading to Chile at their earliest feasible time.