2010-03-02
AMDA Visits Samoa For the Follow-up of 2009's Tsunami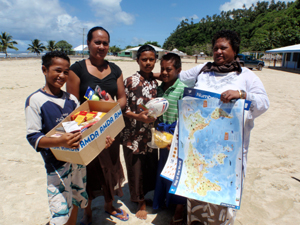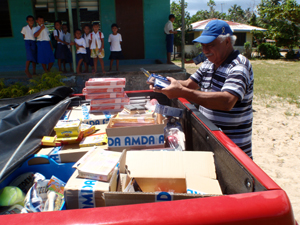 To assess the recovery from the tsunami that struck Samoa in September 2009, on Feb. 23rd, AMDA's representative revisited the affected areas along the east coast of the country.
On the 29th of September 2009 at 6:48am, an earthquake with a magnitude of 8.0 occurred in the Pacific Ocean. A resulting tsunami up to six meters in waves caused severe damage to the close-nit community of Samoan islands. AMDA dispatched relief personnel to help the people immensely afflicted by the calamity.
On this trip, AMDA's coordinator was accompanied by Dr. Emulsi Puni, the director of Medcen Hospital in Apia, Samoa. Dr. Puni is an avid contributor to the community rehabilitation and is running a mobile clinic for the local people ever since the tsunami occurred. The relationship between Medcen Hospital and AMDA dates back to the time of the disaster when AMDA donated medical goods to the hospital.
Among the places AMDA's representative visited was Lalamanu District Hospital in Lalamanu. The hospital functioned as a center for medical relief immediately after the tsunami as it was located inland. Dr. Puni provided medical service immediately after the tsunami which is still being sustained on a weekly basis today. This time AMDA donated medical supplies to Medecen Hospital to support the operation of Lalamanu District Hospital.
AMDA's representative also paid visit to a local organization, Women in Business Development Incorporated (WIBD), who partnered with AMDA at the time of the disaster. WIBD director, Ms. Adi, expressed much appreciation to AMDA's work and would be glad to be a collaborating partner in the region for AMDA's future activities.
Along the way, AMDA's coordinator also made donations to the local school children. All of the donated goods were purchased in Samoa in the notion of supporting local economy.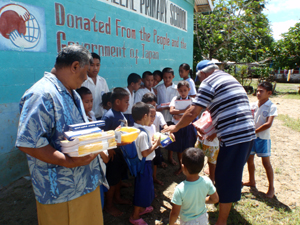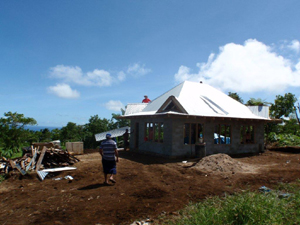 Current Progress of Rehabilitation:
The cleanup work around the town has been successfully completed as there are rarely any un-cleared debris and buildings in the affected areas. Most of the people who were living in the coastal areas before the Tsunami have since moved to higher grounds and started to settle in. There are some basic traditional houses constructed by NGOs and by the government. Though not sealed the roads are in fairly good condition but the arrival of rainy season will make the transport difficult. People planted home gardens with Taro (Samoa's staple food), plantain, banana and vegetables. Local fishing industry regained normalcy as it was evidently seen at the Sunday market.