2010-02-02
AMDA Emergency Bulletin VII: Haiti Emergency Relief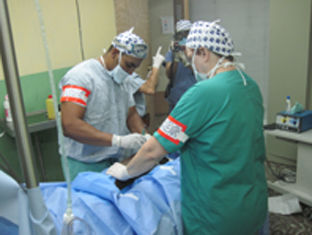 Having its logistic base in Santo Domingo (Dom. Rep), AMDA's relief teams are currently active in St. Marc and Gonaives, both located at the northwest of Port-au-Prince, the devastated capital of Haiti.
St. Marc (Haiti): As of Feb. 2nd, a team comprised of two doctors from AMDA Nepal and one coordinator from AMDA Peru is stationed in St. Marc. The team will be working in St. Marc until Feb. 5th followed by AMDA's Bolivian team taking over their work.
Gonaives (Haiti): Medical personnel from AMDA Canada and AMDA Colombia left Gonaives after successfully completing their mission. As relief personnel are constantly alternating between St. Marc and Gonaives, further dispatch of personnel is currently being discussed.
Santo Domingo (Dom. Rep): AMDA's logistic team visited Elias Pina (Dom. Rep) to assess the possibility in setting up a rehabilitation center for the victims of the earthquake. The team visited a government-run hospital where the center could be established under the hospital's support.
In the meantime, AMDA's representative will be having a meeting with the officials regarding the donation of relief distribution for the Port-au-Prince area.