2010-01-21
AMDA Emergency Bulletin IV: Haiti Emergency Relief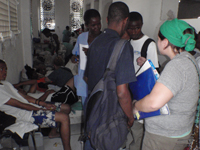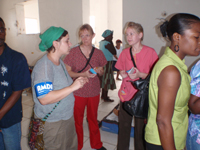 St. Nicolas Hospital in St. Marc, Haiti, where AMDA team is currently working at, is running out of space and facing severe lack of surgeons and facilities. In the mean time, another request was made to AMDA to take care of a regional hospital in Gonaives. There is a Cuban community in the region, hence the surgeons (orthopedic surgeons) from Spanish speaking countries are said to be in demand.
Most of the injuries cases are fractures including multiple fractures and exposed fractures, as well as compressed-muscle related injuries. Due to lack of proper treatments, many patients had to go through amputations to save their lives.
St. Nicolas Hospital is filled with following injury cases:
Multiple fractures, dislocations, sprains and strains, intracranial injuries, internal injuries of chest, abdomen and pelvis, open wounds, broken skulls, burns, injuries to nerves, spinal cords and blood vessels. Paraplegic conditions are also seen.
Doctors and nurses from all over the world are working around the clock, however, patients never stop coming in. Unfortunately, one patient (male, 23) died at the operating table due to multiple-fracture complications to his upper body.
AMDA team was asked to get involved in coordinating the operations/missions at the St. Nicolas Hospital conducted by American doctors from Boston, AMDA and St. Nicolas Hospital. The team is working hard to bring the patient management and patient-record management systems into an orderly manner for easier screening prior to operations.The team also worked on security matters, regulating the visiting hours for the visitors to the hospital.
AMDA team will continue to work at the hospital and at the same time, will communicate with its logistic hub in Santo Domingo (Dominican Rep.) for further relief efforts.