2009-11-10
AMDA Emergency Relief Report: Emergency Relief for Tsunami in Samoa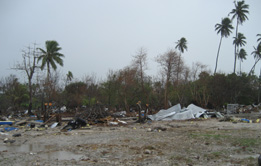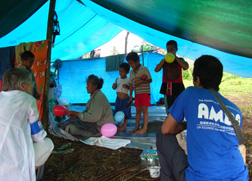 On the 29th of September 2009 at 6:48am an earthquake with a magnitude of 8.0 occurred in the Pacific Ocean. A resulting tsunami up to six meters in waves caused severe damage to the close-nit community of Samoan islands and Samoa.
On Tuesday October 13th two coordinators from AMDA Headquarters left for the island of Samoa to assess the situation and to assist the people of Samoa who suffered immensely due to the tsunami. The team made an initial stop at Auckland, New Zealand and bought necessary medical supplies to donate to the local hospital MEDCEN in Apia, Samoa.
On the 14th of October the coordinators left Auckland for Apia, Samoa with a grief-therapist (MNZAC) from New Zealand. AMDA team was welcomed by the members of Women in Business Development Inc. (WIBDI) who is the collaborating partner of AMDA in Apia for this mission.
On Thursday 15th October AMDA team visited many affected areas with the help of WIBDI. The team could clearly see the magnitude of the damage and devastation to the landscape caused by the tsunami. People from the affected areas have moved to higher grounds and already started to build their shelters with the help of families and friends. There, AMDA team witnessed firsthand impact of the tsunami on the families in their temporary shelters and met with the family members. According to the professional observation, it was evident that the affected people were expressionless due to shock and trauma.
On the 16th of October the team donated medicine to the director of MEDCEN Hospital. The hospital conducted not only emergency medical clinic in many affected villages but also helped to clear the land to construct new shelters.
The two coordinators returned to Japan on the 18th of October while the therapist stayed until the 20th of October and continued with much needed grief-therapy.
The therapist conducted many one-on-one counseling sessions for the staff of WIBDI and staff of Faataua-Le-Ola (FLO), the lifeline counseling service in Samoa. Since the tsunami these staff have been working overtime in the disaster area assisting survivors and providing support to families. These professional care-givers have been affected both personally in their own families as well as are being vicariously traumatized by working constantly with, witnessing and hearing the suffering of families and individuals in deep shock and grief. It was also visible that there was a strong need on ongoing follow up debriefing, support and training of professional staff in order for them to function well and be able to continue their field work effectively.