2009-10-13
AMDA Emergency Bulletin II: ER for Typhoon Ketsana (Ondoy), Philippines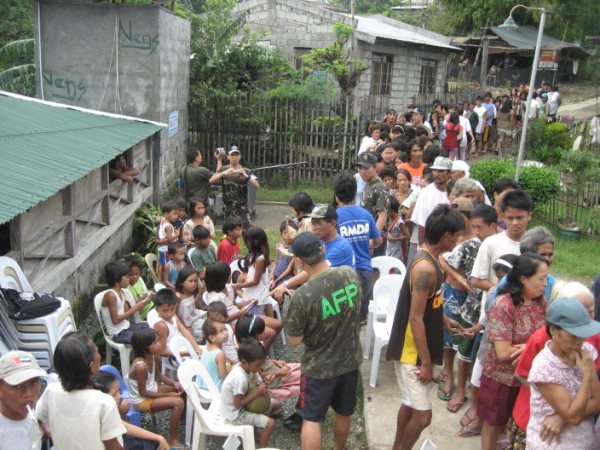 A team of AMDA personnel assessed the extent of the damage after their arrival in Manila on Sept.29th.
The team visited shelters at four different locations in Marikina, Manila for assessment: one of the shelters was located in a school where there were about 3,000 to 3,500 people seeking for accommodations; one classroom was even occupied by 25 families.
Joint medical mission with the Philippines Air Force
With the reference and recommendation by AMDA personnel's relative in the Philippines, the team came in contact with RRATSW (Ready Reserve Airlift and Tactical Support Wing, Philippines Air Force (PAF).
Followed by the meeting with PAF officials, they invited the team to join their mission and requested for the provision of medical supplies.
The joint medical mission with PAF was originally planned for Oct. 2nd at Balingasa, however, it had to be postponed a few times due to the unsettled weather which pulled out PAF doctors to more severely affected locations.
Finally, six PAF doctors were secured for Oct. 10th joined by four local AMDA volunteers. AMDA donated about 110,000 pesos worth of medicine and 1,300 bars of soap to PAF for this mission.
As for the medical treatment, the team saw 438 patients including 235 children and 60 elderly people. Among the common maladies were cold, skin infections and eye disorders.
Distribution of relief goods (Oct. 7th '09)
The team left Manila in three vehicles with relief goods and reached the town on Cardona in the early morning of Oct.7th. A boat was hired to bring the team of eleven members along with the relief supplies for about 500 families in Pipindan village in Binadgonan, Rizal Pipindan. The team reached Pipindan village after a 45 minute- boat ride in the flooded lake.
Pipindan has a population of over 5,000 and about 2,500 families. Over 150 houses were totally destroyed and about 500 houses were partially or totally affected. Part of the village and houses are still under water and there was no sign of water level going down.
The relief mission was divided into three parts:1)Brief dental instruction for children, 2)Relief goods distribution, 3)Visit to the affected area.
AMDA Philippines's medical/surgical/dental mission
AMDA Philippines office in Manila's China Town itself was partially damaged by the flood. AMDA Philippines, under the leadership of Dr. Primitivo Chua, conducted a medical/surgical/dental mission for the victims who are currently relocated at Ultra Sports Complex in Pasig City. As a whole, 541 patients visited the temporary clinic service.
This is in coordination with AMDA Philippines, Asian Medical Students Association (AMSA Philippines), Lions Club Manila Chinatown (LCMC) and Asian Medical Mobile Services (AMMS).
For details, see AMDA Philippines' official blog.