2009-10-09
AMDA Emergency Bulletin III: Emergency Relief for Sumatra Earthquake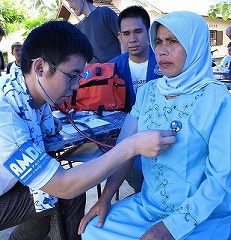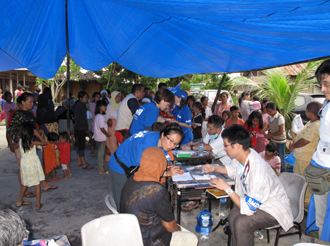 A team of medical personnel from AMDA Headquarters and AMDA Indonesia has been conducting mobile clinic in Pariamang (59km north of Padang.) On Oct.6th, in cooperation with a local NGO, the teams visited Ranta Mindu Nan Sabaris and Mgoppo Taram Urakan, treating 138 patients. While a number of patients had a cold as they were forced to remain outside for the lack of shelters, many reported ocular pain and sore throat due to the dust from collapsed buildings.
On 7th Oct., the team spent a day in Anpang Kota Padang and treated 190 patients. The common maladies included external injuries as well as cold and insomnia due to the lack of accommodations.
The first team of medical personnel from Japan withdrew from the site and returned to Japan in the afternoon of Oct.8th. The rest are carrying on with the relief activities.