2013-11-29
Responding to the Disaster of Typhoon Haiyan in the Philippines 6
Typhoon Haiyan devastated vast area in Visayas, especially in Leyte, the Philippines. AMDA has sent 10 members to the Philippines and implemented the emergency relief activities in the islands of Leyte, Bohol, Negros and Panay.
AMDA has based in Cebu, and presently two teams have been operating medical missions in Palompon, Palo, Tanauan, Tolasa and Dulang, Leyte. One team is collaborating with Armed Forces of the Philippines, and the other is a multinational medical team led by AMDA Philippines, consisting of a doctor and a nurse from Nepal, two doctors from Indonesia and a nurse from AMDA HQ.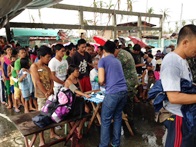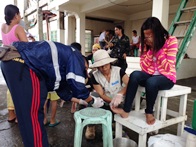 Accoording to the report from AMDA staff who has just completed her activity in Leyte, her team conducted medical mission in Mayoga, located in the south of Tacloban, since there were many other organizations doing their activities in Tacloban. Although Mayoga was affected as badly as Tacloban, no medical team had reached the area for support. AMDA was the first organization to operate a medical mission in this area, therefore more than 300 patients came to see the doctors. The major symptoms were respiratory symptom, traumatic injury, skin disease, diarrhea and hypertension. They also provided acupuncture treatment as well.