2014-11-15
Emergency Relief Mission for Flood in Pakistan and North India 4
Due to continuous heavy rain brought by Monsoon since the beginning of September, a part of Pakistan and Northern India was flooded. After the assessment, AMDA has conducted emergency relief mission in the affected areas both in Pakistan and in Northern India. However, even after the relief mission, the affected people were still in need of support from outside. Thus, AMDA has decided to conduct another relief mission for the affected people in Punjab province along Chenab River in Pakistan.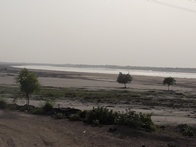 &nbsp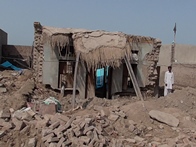 AMDA nurse arrived in Islamabad on October 8th and had a meeting with the local partner, NRSP (National Rural Support Programme) for the update on flood situation and relief activities. Since water has receded recently, there is no longer a risk for increased flood damage in the lower reach of the river. However, according to NRSP, people who lost their houses are living outside and medical needs are still high.
The third most affected area from the flood in Pakistan was Hafizabad district in Pubjab province and 14% of the area has been affected. Because the demand for the relief aid is still high, AMDA has decided to continue our relief mission in the area where we had supported for the first mission.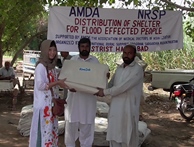 &nbsp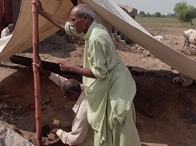 On October 9th, in collaboration with NRSP, AMDA were able to distribute tarpaulins with 4 bamboo rods from the previous relief activity to 100 households in Kotbela village and Baghneu village of Pindi Bhattian Teshil in Hafizabad district. Houses made out of bricks and mud are damaged extensively and people are still living outside. As soon as the flood affected people received their tarpaulins and 4 bamboo rods, they started to build their own tents.
On the next day, AMDA nurse participated in the medical camp organized by NRSP in Kotghazi village of Jalan Pur Bhattian Teshil in Hafizabad district. With support from local people such as a local doctor, an assistant and a pharmacist, 246 patients were able to receive care. Skin infection, muscle pain, malaria, typhoid fever were seen as well as symptoms related to chronic hepatitis. Patients from the medical camp said, "We appreciate that you came from far away like Japan. Insha Allah." "We rarely have a chance to see a doctor usually. We appreciate this kind of support."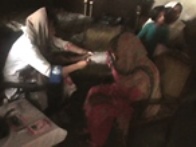 &nbsp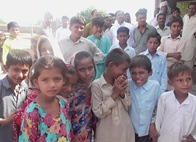 The medical camp will be provided to the flood affected people by the end of October in collaboration with NRSP.