2014-11-13
AMDA Visited Landslide disaster side in hill-country, Sri Lanka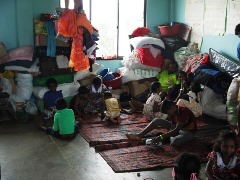 &nbsp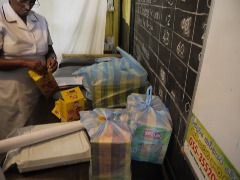 On October 29th 2014, at 7:30 am a landslide struck the village of Koslanda in the Haldummulla division of Badulla district in Sri Lanka. The landslide was triggered by the monsoon rains, which lasted a few days in a raw and killed at least 16 people and left an estimated 200 missing. Right after the tragedy, AMDA HQs decided to conduct the emergency relief activities to help the affected people.
On November 2nd, AMDA staff arrived in Colombo, Sri Lanka and had an immediate meeting with the president of AMDA Sri Lanka. On the 3rd of November AMDA staff also had a joint meeting with AMDA Sri Lanka and Sarvodaya Foundation who is a leading Sri Lankan NGO and also one of the partner organization in AMDA ASNET (Asia Sogo-Fujo Network) group. On 4th Nov. AMDA staff visited the temporary shelter that was set at the Poonagala Tamil School in Badula (225km from Colombo) and met with Dr. A. J. B Croos who is the medical coordinator of the camp from the District Medical Officer of Health (MOH) and a reliable contact for AMDA projects in Sri Lanka.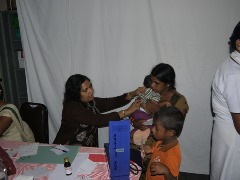 &nbsp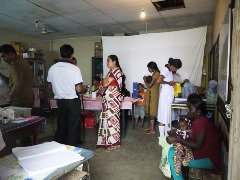 Poonagala Camp is currently accommodating about 1050 people in total and is divided in two different sections. One part is holding about 400 people who are directly affected by the landslide and about 65 of them were children. The other part accommodates the rest who have been evacuated due to possible future landslides from the nearby area. There are also two other small camps close to this main camp comprising 300 and 150 residents respectively.
Though there were plenty of food, cloths and medicine available at the camp, there was a severe shortage of baby/ infant food and feeding materials. On the request from the District Health office and Dr. Croos, AMDA donated much needed one hundred sets of baby foods and feeding materials. The children at the camp also enjoyed some Japanese sweets.
On the other hand, the camp also has a 24-hour clinic with doctors from the Bandarawela MOH division and so far the clinic had more than 100 consultations per day. Most of the cases are related to common cold, cough, chest infection and wound infection. Sarvoday and AMDA together had decided to support the clinic with a safe and reliable medical transportation. Sarvodaya provided one of their ambulances to be present at the camp and according to Dr. Vinya from Sarvodaya the ambulance have been running many times between the camp clinic and the local hospital, totaling about 150km a day. There was a dire need for large amount of fuel for an ambulance and AMDA decided to support Sarvodaya by providing the cost of fuel.