2014-10-27
AMDA Reconstruction Activity for Typhoon Haiyan in the Philippines
Leyte Medical Society (LMS), in collaboration with AMDA, held the 5th and 6th medical mission for their reconstruction activities of Typhoon Haiyan on August and September respectively.
On August 17th, 2014, LMS conducted 5th medical mission in Barangay 68, where lies along the northeastern coastline of Tacloban City. This Barangay has 2600 inhabitants, and was filled with non-concrete small houses. Although this area is now labeled as "NO BUILD ZONE", people here started to rebuild their houses of light materials on the very places where their original houses were due to lack of relocation place.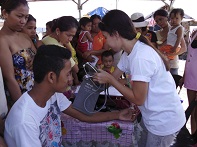 &nbsp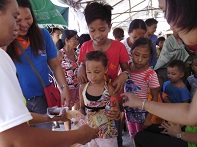 The team treated total of 231 patients, including 107 adults and 124 children at this barangay. The main symptoms of the patients were hypertension, cough and colds, muscle pain and arthritis for the adults, then cough and colds for children. About 200 children also came to partake of the nutritious bread and fruit juice that filled their stomachs. These children also received hygiene kits consisting of face towel, bath soap and tooth brush to keep their bodies clean and maintain their dental hygiene.
The patients were very glad and happy to see the medical mission team and they were thankful to have free consultation and obtain free medicines.
On September4th, LMS conducted the 6th medical mission in Barangay 103, PALANOG, Tacloban City, located 10 kilometers north of Tacloban. This Barangay has 4,723 inhabitants. During Typhoon Yolanda, it experienced flood and houses of light materials were destroyed. Parts of the hilly barangay area had landslides and vegetable farms were heavily flooded. LMS with 20 doctors, 5 interns, 27 barangay health workers and 4 secretaries treated 707 patients including 380 adults and 327 children. The main symptoms of the patients were hypertension, upper respiratory infection, and headache for the adults, and upper respiratory infection and malnutrition for the children.
&nbsp
LMS also distributed 100 hygiene kits including toothbrush, face towel, bath soap and hand sanitizer to children. They were so happy and their parents were very glad for free kits that their children could use. LMS also offered nutritious food such as porridge with milk, vegetables and chicken for 200 children.
The inhabitants and the patients were so thankful, they were happy to receive free consultation, free medicines for acute and chronic diseases. All participants who supported organizing this mission and feeding were really glad and full of gratitude to LMS and AMDA.