2014-10-08
Emergency relief activity for Flood in India
In consequence of the heavy rainfall in Jammu and Kashmir in early September, the Jhelum river overflowed and caused devastating floods around the border between Pakistan and India. AMDA decided to conduct emergency relief activities in both countries and started working in Pakistan on the 17th of September and in India on the 25th of September respectively.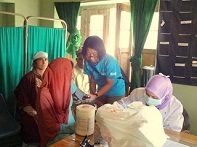 &nbsp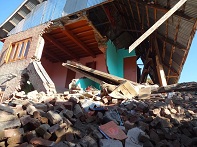 On September 25th, AMDA nurse arrived at Delhi in India and joined a partner NGO, Pannya Metta Sangha based in Nagpur. On the next day, right after having arrived in Srinagar, they joined a local NGO, Kashimir Welfare Center, and visited Kanihama village, Magam, Budgam, where were affected by floods. In those villages,the floodwater reached 1.5 to 2 meters high, and about 300 houses and buildings have been affected. Even the houses that seemed to be fine at a glance were damaged with cracks on the walls and/or floors due to flood. They also lost their crops and livestock.
On 27th of September, the team visited Got. Goplan village in Pattan City. The floodwater has just receded two days before the arrival of the team, and the residents just came back from evacuation center located 5km away from their houses. Some of the affected people lost their boats and loom which are their source of income. The city decided to distribute 25kg of rice to each family. However it seems not to be enough considering their family size. Additional distribution has not been scheduled yet. AMDA distributed blanket to 25 affected families for the winter to come.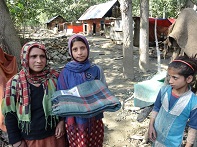 &nbsp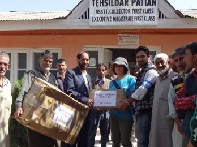 The team also visited one of the most affected areas, Srinagar. The flood reached as high as 3 meters. The floodwater still remains on the roads. Most of the stores, schools, and hospitals were affected and are still closed. People have to live under unsanitary living condition since garbage was everywhere in the city.
AMDA, in cooperation with Pannya Metta Sangha, and two local doctors from Pattan city hospital, provided mobile services at Got. Goplan village on 28th of September. Because of the time limitation, the team was able to see only 17 patients, however the local doctors continued to examine patients and prescribed the medicine Pannya Metta Sangha and AMDA prepared. Most of the patients were suffering from respiratory tract infection. And elderly people were suffering from body pain due to flooded living environment. Unused medical supplies were donated to the hospital of Pattan city. Also 28 blankets were distributed to the Pattan city and 55 blankets were distributed in Got. Goplan village. One of the beneficiaries came to AMDA nurse and gave a hug for a while without a word when she was about to leave the city.
Remaining 77 blankets were donated to Pattan city, and they will be used for 4 affected villages which are Jamalmri village, Mandirjari village, Matipera village and Tantaroy pera village. Department chief promised to use donated goods for the affected people efficiently, and expressed appreciation towards Pannya Metta Sangha, Kashimir Welfare Center and AMDA.