2014-09-25
Emergency Relief Mission for Flood in Pakistan and North India 2
On September 17th, AMDA Nurse has reached Islamabad, Pakistan and met with staff from the national organization, National Rural Support Programme (NRSP).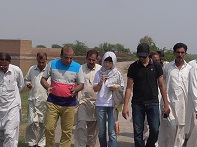 &nbsp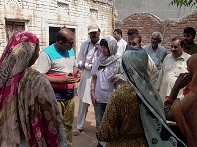 Jhelum River and Chenab River caused flood started from upper stream eventually spread to areas in lower stream. NRSP, which has been active in the flood affected area before this adverse event, shared the information about affected areas, and AMDA nurse has decided to visit three affected areas starting from September 19th.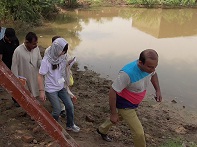 &nbsp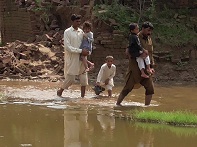 On 19th, AMDA nurse in collaboration with NRSP visited Haran Pur village, Pind Dadan Khan Teshil of Jhelum District in Punjab province along the Jhelum River. Even after almost two weeks from the date of the flood, remaining water could be seen in some parts of the village. Some families were residing in a remaining water areas, and they needed to cross the knee-high water in order to receive the relief goods.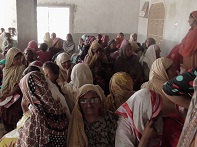 &nbsp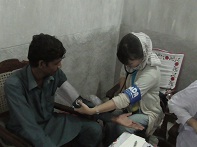 On 20th and 21st, AMDA nurse visited and participated in the free mobile medical camp organized by NRSP in two different areas along the Chenab River-Narowal Village, Chack Bhatti union council in Jalalpur Battian Teshil of Hafizabad District and Sambal union council of Chiniot District. Even though each medical camp had only one doctor, due to lack of doctors in the area, with few other medical professionals to provide consultation to the affected patients, the team could see 710 patients in two days.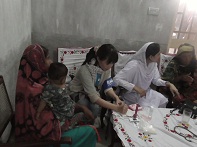 &nbsp
Flood devastated the fields of corn, wheat, rice, cotton and sugar canes, which were almost ready to cultivate. Also, feed for livestock was submerged in the water. With the help of neighboring villages, the affected people can feed their livestock for now, but it will not be enough. After water receded and brick houses were dried, their walls cracked and fell. In Sambal union council of Chinot District, mud-made houses were completely collapsed and people are sleeping outside. At free medical camps, many people complained of symptoms related upper respiratory infection due to sandy dust. A Few pediatric patients had diarrhea.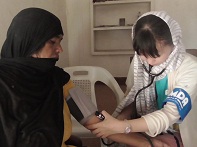 &nbsp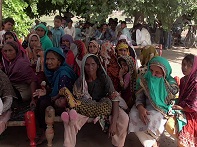 After assessing the area, AMDA has decided to provide tarpaulins for building tents to the people who lost their houses and medications for the free medical camps. AMDA will continue to monitor the situation as the flood areas are possibly spreading to further downstream.