2014-09-17
Preserved Packed Rice Distributed in Iloilo, Philippines
The part of Iloilo province in Panay Island was badly hit by typhoon Haiyan, and AMDA, in collaboration with Iloilo City Lions Club, conducted medical mission in the affected areas during emergency relief, and Iloilo City Lions Club has been supporting people in the affected areas continuously.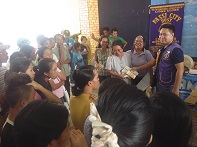 &nbsp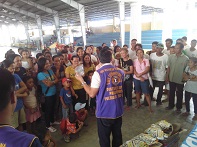 On August 16th, 2014 Iloilo City Lions Club with support from AMDA distributed preserved packed rice to 104 families at Barangay Poblacion llaya, Passi City. After giving the instruction on preparing the packed rice, the Lions Club official oriented the families to put the rice in their emergency pack containing one liter of water, canned sardines, biscuits, dry clothing, medicines, candles, flashlight, matches, and photocopy of important documents, which were given from the other organization. Then, on September 1st, another 30 families received the preserved packed rice at barangay Dungon A, Iloilo City where is usually affected by floods when they have heavy rains. Each family received 3 packs of rice and they were very grateful to receive them for emergencies.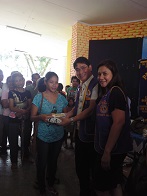 &nbsp