2009-08-31
AMDA speaks at UN ECOSOC High-Level Segment 2009 in Geneva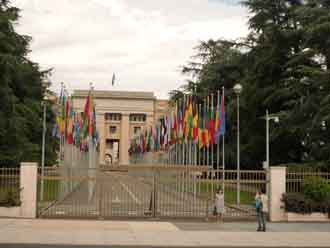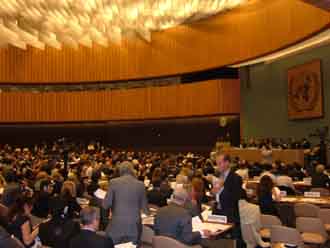 On July 6th '09, AMDA was chosen to make an oral presentation at UN ECOSOC High-level Segment, Annual Ministerial Review 2009 held at the United Nations' European Headquarters in Geneva, Switzerland. The pillar of the four-day conference was the assessment of the progress of United Nations Millennium Development Goals (MDGs) focusing on "Implementing the internationally agreed goals and commitments in regard to global public health".
In his presentation, AMDA's President, Dr. Shigeru Suganami, has introduced AMDA Peace Building Project through Health (AMDA PBP) which was implemented in Sri Lanka in 2003, a unique program dedicated to fostering mutual trust among different ethnic groups through health-related initiatives.
Dr. Suganami stated that health projects can become powerful tools in peace building when administered properly and can contribute in mending the war-torn communities.
While most of other presentations covered diverse yet rather-general facets of public health, AMDA's presentation was well praised for its specific content which showcased the practical method of humanitarian assistance on the field.