2014-07-09
AMDA Reconstruction Activity for Typhoon Haiyan in the Philippines
It has been 8 months since Typhoon Haiyan hit the Philippines, which caused tremendous damage to the people. AMDA has been involved in relief activities from immediately after the typhoon until now. In Leyte, AMDA continues to support monthly medical missions conducted by Leyte Medical Society as their reconstruction activities since March 2014 .
Leyte Medical Society held the fourth medical mission on June 15th, 2014 in Real Youngfield, Tacloban City, and 35 local medical professionals and volunteers contributed to this mission. Three kinds of services-hand hygiene lecture, distribution of hygiene kits, medical consultation- were offered to the affected people during the mission.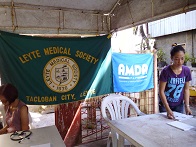 &nbsp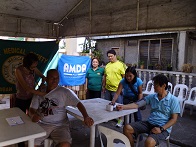 A doctor from Leyte Medical Society gave a lecture on proper hand washing to prevent common infectious diseases such as upper respiratory tract infection and distributed hygiene kits -a rubbing alcohol bottle, a bath soap and a facial towel. During the medical consultation, the team could see 121 patients in total (60 adults and 61 pediatric patients). The two most common diagnosis were hypertension and upper respiratory tract infection that account for more than 50% of all diagnosis.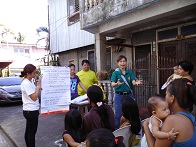 &nbsp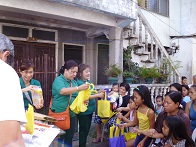 The affected people were very thankful of the medical mission. Even though it was the FIESTA, which is very important festival day for Fillipino, many people came to receive the services.