2014-06-19
Cataract operation project in Nagpur, India
AMDA collaborated with "Brighten the World at Your Corner (Ichigu-wo-terasu) Movement" and Pannya Metta Academy conducted a sequel of 2 cataract operation missions during February and May in Nagpur, India.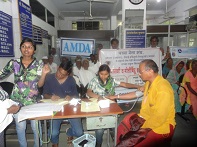 &nbsp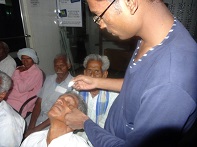 On February 15th, 2014 our operation team, which is formed by doctors, nurses and medical (eye)- technicians did the pre-operative examination for 191 patients in Yado village and Ruyard village. As the result of the examination, 74 patients had cataract and out of them 39 patients took the cataract operation. The rest, 35 patients fell into the high-risk category due to high-blood pressure or high blood sugar. All operations were conducted in the Mahatme Eye hospital in Nagpur.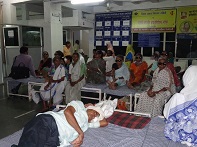 &nbsp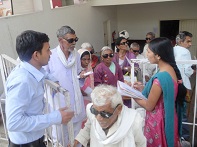 On12th May 2014, the operation team saw 112 patients in Pannya Metta academy, Nagpur. Most patients, who cannot access to see a doctor, were daily workers from the slum area of north Nagpur. 14 patients went through the operation procedure on that day. One of the patients told, "It has been very difficult to see a doctor and get the information about cataract operation. This is a big chance for us to be freed from pain and cataract. Thank you very much for your help." The rest of the patients will be operated during our next mission that is planned for the 20th of June 2014.