2014-05-30
AMDA Reconstruction Activity for Typhoon Haiyan in the Philippines
After AMDA's emergency relief activities for the affected people from Typhoon Yolanda, AMDA continues reconstruction activities in Leyte.
Leyte Medical Society in collaboration with AMDA has been conducting a medical mission for the affected people from Typhoon Haiyan once a month as our reconstruction activities after shifting from emergency relief activities.
On May 8, 2014, our third medical mission was held in Tanuan, Leyte, which is located 20km south from Tacloban City. It is one of the most affected and totally devastated area by the typhoon. Just after the typhoon, roads and bridges were destroyed and houses were totally collapsed and ruined. Private and government buildings made of concrete were also damaged. More than 10,000 people were lost their lives due to the disaster. The present living condition of local people is entirely dependent on the emergency relief goods from the government and NGOs.
During the mission, the team could see 215 patients in total (160 adult and 55 pediatric patients). Most of female patients are housewives while, male patients are fishermen, farmers, government workers and teachers. Many adult patients complained of upper respiratory tract infection, hypertension, rheumatoid arthritis. Among pediatric patients, upper respiratory tract infection, skin allergy and bronchial asthma were the common signs seen during consultations.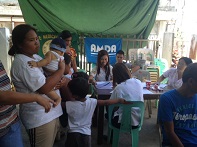 &nbsp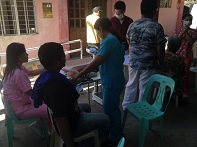 After the medical mission, one of the patients said, "We are grateful to all the doctors from Leyte Medical Society and the people from AMDA who continuously give financial support for the medical missions." Other patients stated, "I hope the medical mission conducted by Leyte Medical Society and AMDA will continue until such time that the people of Tacloban and Leyte fully recovered physically and mentally." "We are very thankful to all the people who initiated this activity. It helped a lot especially to those who should take medicines every day."