2009-08-18
AMDA Emergency Relief Bulletin II:ER for Diarrhea Outbreak in Nepal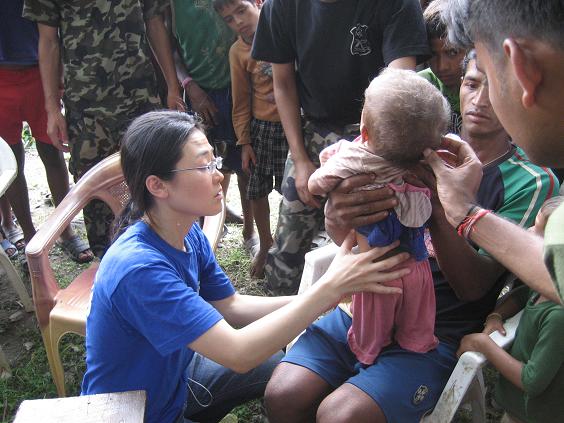 On the 1st of Aug. 2009, a team of one coordinator and one doctor from AMDA Headquarters arrived in Kathmandu and on the 3rd of Aug., along with one doctor from AMDA-Nepal and a local T.V reporter left for Jajarkot. At the Jajarkot district headquaters office/hospital the doctors consulted a few patients after meeting with the medical doctor in charge of the diarrhea outbreak. After a few hours at the district headquarters it was decided that the team will move to another remote part of Jajarkot to provide medical assistance.
On the 4th of Aug., the team arrived and started working at a temporary army medical camp at the village of Karkigoun in Salma/Sudari region. The camp which covered around five villages was set up at a local school and according to the army there were about 500 outpatients since they opened the camp a week ago. However, only about 100 were diarrhea and the numbers were close to none when the team reached Salma.
The local sanitary condition was worse as seen in the school toilet and other public places due to lack of running water nearby. People and animals shared drinking-water source and bathed together in the river. Children walked around on bare foot without caring the feces of livestock which seemed one of the main causes of soil-transmitted helminthes infection such as Ancylostoma. Having seen the conditions, the team decided to conduct mobile sanitary/health education around the villages to teach general hygiene practices as they felt the need to keep up the sanitary practices to avoid any risk of future outbreak. AMDA team with the Army medical doctors conducted a door-to-door visit and gave advice on better hygiene practices to avoid future outbreaks.
The team then proposed the village leaders and school committee to clean the toilet together that was left abandoned. In return, AMDA agreed to cover the cost of bringing clean water from the mountains to the schoolyard. Accordingly, AMDA donated the pipe needed to bring the water from the mountain to the schoolyard with a simple system. A small water pool will be made with stones near the water source and then the pipe will simply be inserted. Then using the slope of the mountain the water will be brought down to the schoolyard. As AMDA team was about to complete the mission and withdraw from the site, it was agreed that the army is going to look after this job up to its completion.