2014-05-29
Emergency Relief for Flood in Bosnia and Herzegovina 2
After arriving in Banja Luka, Bosnia and Herzegovina (BiH) on May 22nd, AMDA staff joined with AMDA BiH and together they started assessing the affected areas in BiH
During assessment, AMDA staff noticed people residing in and around Banja Luka were working on their flooded houses by throwing away the damaged goods and furniture and cleaning the floor. In Banja Luka, it seems the general stores and clinics have returned to their normal opening hours and many restaurants that are located along the river-side also have opened for business even though they were badly affected by the flood. One of those restaurant owners explained AMDA staff the severity of the situation by showing the water level before and after the flood.
However, the situation in Doboj, where 20 people have been killed and is still under the state of emergency, was far from the ordinary. All the stores are closed, streets are full of debris carried by the flood, and tap water is still not drinkable. Many people were gathering at churches to receive donated items. When AMDA staff, who is also a nurse, visited some private clinics in Doboj, most of them were closed. However, Doboj Medical Center which was located on the hill, had no damage and was functioning normally. Cooked foods were provided at the hospital not only for patients and staffs but also for affected neighbors. According to the infectious disease specialist at the hospital, currently there are no spreads of infectious diseases. AMDA staff also visited people who are not able to go out to receive aids due to their health conditions such as diabetes, cerebral infarction, and interview their symptoms and needs.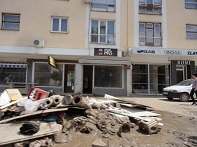 &nbsp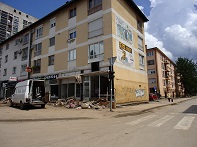 After the assessment and hearing from local people, AMDA decided to focus on the population who are not accessible to medical care in Doboj. On 27th May,AMDA staff and AMDA BiH prepared relief goods and were planning to go back to the area and support those in need. However they could not reach to Doboj due to the road condition which was worsened by the bad weather. They will try to go back there as soon as road conditions improve.