2014-05-12
AMDA Reconstruction Activity for Typhoon Haiyan in the Philippines
After AMDA's emergency relief activities for the affected people from Typhoon Yolanda, AMDA shifted our activities towards reconstruction.
On April 13th, 2014, Leyte Medical Society in partnership with AMDA held a medical mission in San Mateo, Carigara town. During the medical mission, Leyte Medical Society provided medical care to local people. For medical mission, doctors from Leyte medical society with the support from local people could see 285 patients. Many adult patients complained of the upper respiratory tract infection, rheumatic arthritis, urinary-tract infection. Among pediatric patients, infected wound, malnutrition, acute gastroenteritis and deworming were the common signs seen during consultations. 55 of pediatric patients had circumcision surgery. At the same time, Leyte medical society performed medical screening for cervical cancer and breast cancer. Doctors could see 110 women. After their screenings, patients looked happy and said "thank you."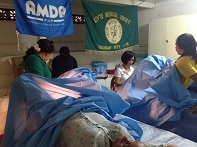 &nbsp