2014-04-21
AMDA Reconstruction Activity for Typhoon Haiyan in the Philippines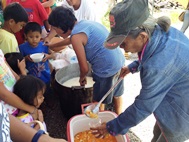 &nbsp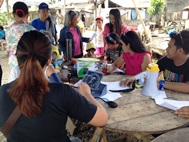 After AMDA's emergency relief activities for the affected people from Typhoon Yolanda, AMDA shifted our activities towards reconstruction.
On March 30th, 2014, Leyte Medical Society in partnership with AMDA held a medical mission at Manlurip elementary school in San Jose, Tacloban City. During the medical mission, Leyte Medical Society provided medical care to local people and conducted feeding program for children in the area.
For medical section of the mission, doctors from Leyte medical society with the support from locals could see 265 patients. Many adult patients complained of the upper respiratory tract infection, hypertension, infected wounds. Among pediatric patients, the upper respiratory tract infection, fever of unknown origin, infected wound and deworming were the common signs seen during consultations. After their consultations, they were prescribed medications and received them at the pharmacy section. Patients who have less access to the medical care could receive their treatment.
For the feeding program, Leyte Medical Society with local volunteers distributed arroz caldo; sticky rice which is mixed porridge with chicken, carrots and beans, and fresh fruit juice to 480 children. Children were fond of the food and kept on coming back to have another bowl of arroz caldo.