2014-04-18
Distribution of stationeries for school children affected by Typhoon Yolanda
Leyte Island in the Philippines was severely hit by the super typhoon Yolanda on 8 November 2013. AMDA conducted emergency relief activities for the initial two months and started reconstruction support for the affected people in January 2014.
As a part of the reconstruction support, AMDA decided to support OKPC (Okayama Kurashiki Pilipino Circle) which planned to distribute stationery to the affected children in Leyte. OKPC is one of AMDA's collaborating partners in Okayama. AMDA and OKPC worked together in five emergency relief missions in Philippines over the past five years.
OKPC members visited Leyte Island from 21 to 26 March 2014 and distributed stationery at two elementary schools. At Anibon elementary school in Tacloban city, toys were given to students of early elementary grades while hats and umbrellas were given to the older students. OKPC decided to give toys to the younger children because many cases of emotional trauma were seen among them. According to the school teachers, students received many material goods after the typhoon but they did not receive enough mental support. OKPC members organized a Kamishibai event, a Japanese traditional way of picture-story telling to offer students fun time.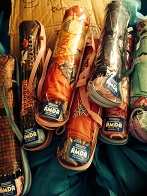 At Parobaras elementary school in Tacloban city, the school building was damaged by storm surge, and students were having classes at a temporary school when OKPC members visited there. Responding to the principal's request, OKPC provided necessary stationery supplies and toys for the students. In addition, OKPC distributed sandals to every student, and provided fold-up umbrellas to every teacher.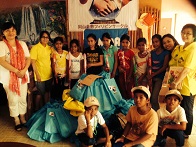 Together with the donation of school materials, messages written by students of Kibi elementary school in Japan were delivered to the students at Anibon and Parobaras elementary school. On the following day of OKPC members' visit, Pilipino students prepared messages for Japanese students and ask OKPC members to bring it back to Japan. This mission could create a good opportunity for both Filipino and Japanese students to interact and build friendships.