2011-06-07
Mongolian optometrist/ophthalmologists visit Japan for training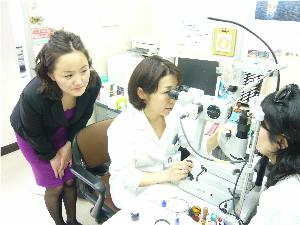 A group of optometrist/ophthalmologists from Mongolia that visited Japan from May 22nd returned to Mongolia on June 4th after completing two-week long training/observation in Okayama (partially Tokyo), Japan.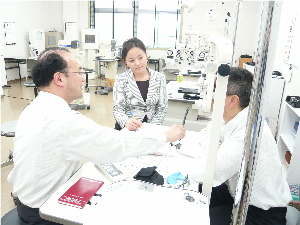 Under the auspices of AMDA International and Mongolian Ophthalmology Association, the group comprised of one optometrist and two ophthalmologists (including the Head of Mongolian Ophthalmology Association) was invited to Japan in learning the knowledge and techniques pertaining to optometry and amblyopia. As the need for optometrist is increasing in Mongolia, the group aims to diffuse the method of optometry and raise the level of optometrists in the country.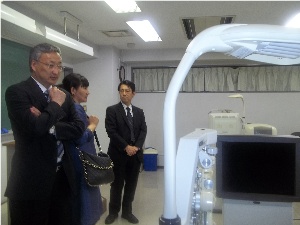 While their two-week stay in Japan, the group visited several technical institutions specialized in the field and observed the hands-on optometric approach. The group also visited a local elementary school and hospital that supported AMDA's ophthalmology mission in Mongolia in 2010 which donated spectacles to Mongolian children.
The training marks the third collaboration between AMDA and Mongolia in the fields of ophthalmology and the like. As a pledge to consolidate future cooperation, AMDA signed MOU with Health Sciences University of Mongolia (HSUM) in 2010.
A series of events are already underway: while an optometry seminar will take place in Ulaanbaatar from June 13th attended by participants ranging from optometrists, opticians to ophthalmologists, the launch of Japan-Mongolia Friendship Hospital is scheduled in late August which AMDA President, Dr. Shigeru Suganami, will be present at its opening ceremony.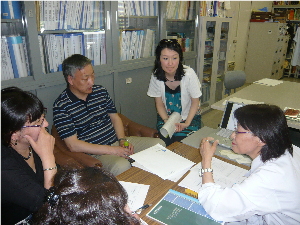 In conclusion of the two-week long training, Dr. Bulgan, the Head of Mongolian Ophthalmology Association, expressed her appreciation, stating that "sharing of the expertise we have attained in Japan with our Mongolian colleagues is the best way to reciprocate."
As 33% of Mongolian population consists of juveniles under the age of eighteen, AMDA and Mongolia will make earnest efforts in ensuring the lights of the country's next generation.