2011-06-24
AMDA Ophthalmologist and Cataract Mission in Mongolia 2011: Third Mission
AMDA Ophthalmologist and Cataract Mission, the third mission of its series, successfully ended on June 18 in Ulaanbaatar, the capital of Mongolia. A week-long seminar, which started on June 13, gathered 120 participants in total from all around the nation and was covered by T.V. broadcasts and newspapers.
Aimed at raising the overall level of ophthalmologists and optometrists in Mongolia, the seminar has been held since its inception in June 2010. As a guest lecturer, a well-known Japanese optometrist was invited to share his knowledge and techniques focusing on different aspects of optometry.
June 13-14: Lectures on children's eyesight, cataract and amblyopia with an emphasis on the correct optometry practices as well as the role for ophthalmologists in improving children's vision.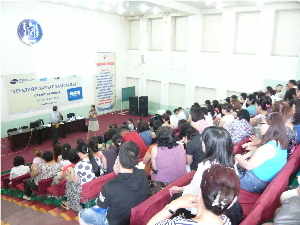 June 15-16: Clinical practices pertaining to amblyopia led by a leading optician in Ulaanbaatar.
Jun 18: Lecture on the effects of 3D television on children's eyesight during their growth period.
Among the participants were two parents that accompanied their son from Zauhan Province (1,000km from Ulaanbaatar) after learning about the workshop on TV. It was their strong request to have their amblyopic child examined properly.
In line with the lectures and workshops, five pairs of glasses were donated to Mongolian children. The donations were made possible through the support of AMDA donors, namely, an elementary school in Okayama, Japan, as well as The Japan International Cooperation Foundation. The effort further plans to donate glasses to 25 amblyopic children by the end of this year.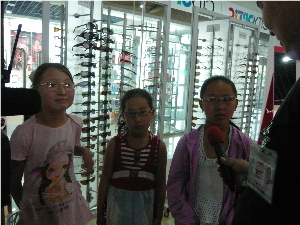 From now on, the Mongolian Ophthalmologist Association and Mongolian optometrists will be working closely with relevant governmental bodies for the establishment of a school for optometrists.
During that time, AMDA's representative was happy to meet two of the recipients of cataract surgeries conducted in July 2010. The program was targeted at those who were directly or indirectly connected with 1939 Battle of Khalkhin-Gol (the Nomohan Incident) during the Soviet-Japan border war. The recipients, both already in their 90s, expressed their gratitude and thanked the Japanese people for the better eyesight they have regained.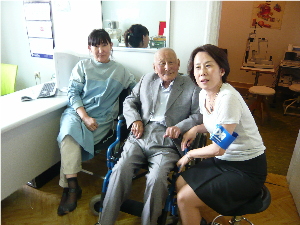 It was also touching to learn that many Mongolian people did what they could to support the victims of the earthquake that hit Japan in March. They provided messages and gave prayers to those who are persevering through the difficult time.
Overwhelmed by the tragic consequences the quake has brought about, the Head of Mongolian Ophthalmologist Association expressed her sincere wish for the earliest recovery of the situation in Japan.