2011-08-17
Cataract Operation in Sri Lanka: Implementation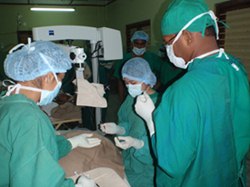 AMDA in collaboration with Taiwan- International Health Action (IHA) conducted free Cataract operation mission in the north of Sri Lanka, Jaffna district which was devastated by a long running civil war which ended in 2009 and lasted for more than 25 years. The country has been experiencing a peaceful time for the last three years and development activities are taking place in various parts of the war-torn areas of the north and east of the country. The project was implemented at Jaffna Teaching Hospital in Jaffna, Sri Lanka.
This time AMDA joined hands with Taiwan International Health Action (IHA) to complete a Cataract operation mission. Two surgeons from Taiwan and two surgeons from Jaffna Teaching Hospital together completed the mission. 134 patients received the operation with foldable lenses to correct their vision. Operations were conducted during 4th, 5th, and 6th of August. All the patients came from Point Pedro and they were transported back and forth by bus. Local doctors, nurses, attendants and other technical assistant all worked together in the 3 days to complete the operation successfully. On the 4th there were 41 operations and 5th our team completed 51 operations and on the last day there were 42 operations.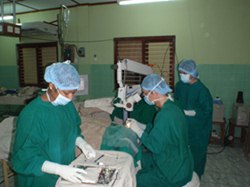 On the 11th of August, all 134 patients who benefited from the operation will be called in for a follow up at Manthikai Base hospital. Eye Surgeons from Jaffna Teaching Hospital will visit the Manthikai Hospital in Point Pedro with AMDA coordinator to complete this mission and to make sure the operation was complication free.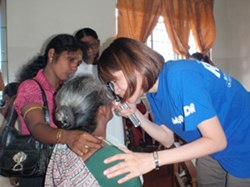 After completing the operations our team conducted screening for cataract in three other places (Chavakachiri base hospital, Velanai hospital and Kytes hospital) for future operations. On the 7th of August, our Taiwan team consulted 105 cases at Chavakacheri base hospital and selected 70 confirmed Cataract cases for future operations. At Velanai and Kytes hospitals the screening was conducted with the help of the local eye surgeons. At Velanai there were 62 people with eye related problems; 26 of them were male and 36 female. We had 31 confirmed cataract cases. On the other hand at Kytes hospital 74 people attended the screening and 21 of them were male and 53 female. There were 34 confirmed cases of Cataract at Kytes. Local Regional Directorial Health Services (RDHS) will organize the free operation at a later date with the help of Health Ministry.