2011-10-03
AMDA Sports Exchange Program for Unity in Sri Lanka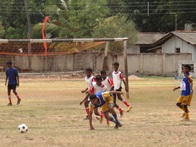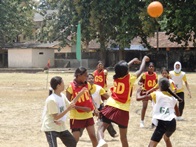 AMDA International and AMDA Sri Lanka implemented a post conflict peace building program called "AMDA Sports Exchange Program for Unity" for children aged from 10 to 14 years old in Anuradhapura, Sri Lanka from Sept 23rd to 24th 2011. 159 students of three different communities including Muslim, Sinhalese and Tamil from four different schools joined this program.
Sri Lanka is the county that had 26 years civil war from 1983 to 2009. AMDA International and AMDA Sri Lanka conducted this sports exchange program in order to bring unity, peace and harmony among school children to promote mutual understanding in post conflict situation.
This program consisted of two three elements such as religions, sports and arts.
On 23rd September, all participants visited temples of Hindu and Buddhism and Muslim Mosque. Since students from three communities have different religious backgrounds, this event was significant for them to understand and respect diverse religions.
On 24th September, friendly soccer game for boys and net ball game for girls were held at Pavilion Central College Anuradhapura. This event focused on not only sports but also art such as creating posters to express their hopes and imagination for peace in Sri Lanka. On the same day, cultural exchange program was organized through dancing and playing dramas. Those two days program contributed to promote mutual understanding in order to cultivate peace among children. It was the first step for AMDA to contribute to peace-building in Sri Lanka by its project.
Students from three ethnic groups could create friendships by understanding the diversities among them through joining sports and art events. Dr. Samarage, director of AMDA Sri Lanka said: "Understanding and accepting each other are the keys to achieve peaceful country especially in post conflict situation. This program in Sri Lanka organized by AMDA is a significant event to develop harmony and friendliness among not only children but also adults of different ethnics".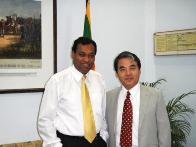 On 26th September, Dr. Shigeru Suganami, president of AMDA had a meeting with Mr. Karunarathna Amunugawa, the secretary of Foreign Ministry of Sri Lanka and former ambassador of Sri Lanka embassy to Japan.
Dr. Suganami reported Mr. Karunarathna that the soccer programme held in Amunugawa on September 24th, 2011 was a great success. Dr. Suganami also mentioned about AMDA's current efforts of organizing the friendship program again in 2012 in Sri Lanka. Mr. Amunugawa said: "Japan has helped the development of many countries. It is meaningful that a Japanese NGO like AMDA proposes the idea to promote peace and harmony among children especially in post conflict situation". AMDA will continue its assistance to create peace and solidarity in Sri Lanka by providing medical services and educational projects through sports.