2011-10-13
ER Activities for Floods by Typhoons in the Philippines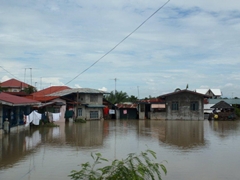 Attacked by two successive typhoons, Pedring and Quiel, within the last week of September 2011, Luzon Island of the Philippines has been suffering from severe flood damage.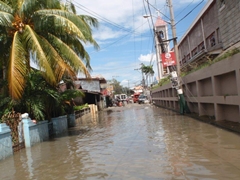 A field officer of the AMDA Headquarters arrived in Manila on October 3rd and started coordination with local organizations and people concerned with emergency relief. Responding to his field research, AMDA decided to team up with the Armed Forces of the Philippines (AFP) to conduct and provide a medical service mission and with the Philippine Coast Guard (PCG) Auxiliary, to provide and to distribute emergency supplies such as water and dry foods. Considering the poor sanitation and the expected deterioration of the sufferers' health conditions, AMDA is continuing coordination with the local people to provide further support.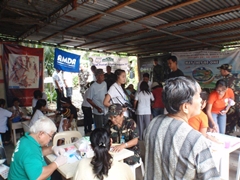 AMDA will collaborate with the University of the East, Manila, Pampanga University Agriculture department and AMDA Philippines to conduct one more medical mission on the 23rd of October 2011.
Activities: On 4th October, AMDA distributed 150 bags of dry foods to the residents affected by the flood in Hagonoy, Bulacan Province, south Manila, in collaboration with the Philippine Coast Guard.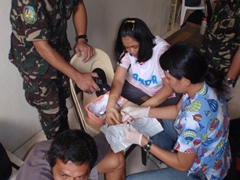 It is planned that another 150 to 200 bags will be distributed in Calumpit town, Bulacan Province, on 9th October (as of writing this on 8th October).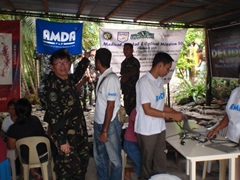 Though the road transport to these regions are slowly getting back to normal, most of the houses in this region are still submerged in water.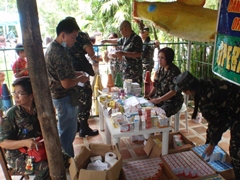 On 6th October, AMDA opened a medical camp in Quisai in Pillilai town, Rizal Province, with the help of 60 medical staffs of the Armed Forces of the Philippines including physicians, surgeons, dentists, ophthalmologist, therapists and pharmacists. They provided medical, dental, ophthalmic, veterinary (against rabies) and relaxation therapy treatments. The population of the area is 25,000 and about 908 patients were treated on the day.