2011-10-17
ER Activities for Floods in Thailand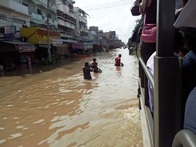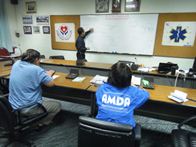 Thailand's flood situation is still on high alert. The worst flood in decades has caused massive damage as the floodwater has swept across the country.
In coping with this situation, a nurse and a coordinator dispatched from AMDA Headquarters, Okayama, Japan, have arrived Bangkok on Oct. 14th. The party held a meeting with a doctor from Bangkok General Hospital and the head of Thai Association for Emergency Medicine(TAEM). They also visited the Emergency Operation Center for Flooding at Don Mueang Airport in order to assess the situation and the emergency needs.
Based on the information obtained, AMDA emergency team will carry out mobile clinic in Nakhon Sawan Province located in the lower northern part of the country on Oct.19th. A medical doctor from Japan expected to arrive in Bangkok on the 18th will join the party. AMDA will work in collaboration with Rajavithi Hospital and Thai Association for Emergency Medicine (TAEM).
In addition, 1,000 bags of medicine and 400 sets of sanitary goods will be distributed to the people in the region. They are now being prepared by the team with the support from Rajavithi Hospital and TAEM.
The Thai government's top priority at this point of time is securing safety for those who have not yet reached the evacuation centers. Life jackets and boats are in high demand for the purpose. AMDA Headquarters has arranged to send in 250 life jackets from Japan.
Please stay tuned for further updates.