2011-10-31
ER Activities for Floods in Pampanga, the Philippines 2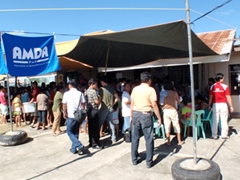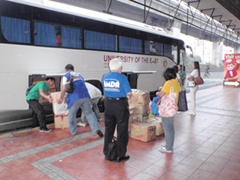 Attacked by two successive typhoons, Pedring and Quiel, during the month of September 2011. Following the 1st mission in the first week of October, A field officer of AMDA Headquarters arrived in Manila again on October 22nd and started coordination with AMDA Philippines, University of the East and Pampanga Agriculture College. Team of doctors, nurses, dentists and volunteers from the University of the East and Pampanga Agriculture College conducted a Medical and Dental camp in the Santo Nino Village of Magalang, Pampanga; about 2 hours drive from Metro Manila. The place was badly affected by the flood and has recovered slowly since.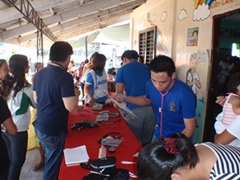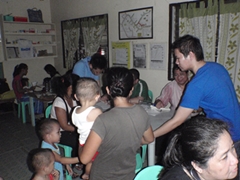 Activities: The Medical and Dental mission was very welcomed by the local community and the officials as it came at the right place in the right timing. Two buses full of medical professionals from the University of the East left Manila, with the representatives of AMDA HQ and AMDA Philippines to Pampanga at 5:00 AM, and arrived at site about 8:00 AM. A team of about 50 medical professionals served the community until the afternoon. There were about 325 patients, mostly mothers and children for medical consultation and about 90 patients with dental concerns attended the clinic. Dental clinic accomodated patients with regular cleaning, tooth decay fillings and extractions. Most of the medical complaints were for ache and pain, upper respiratory infections, skin rashes and infection, asthma and breathing difficulties etc. In total 410 patients attended the clinic.