2011-10-31
AMDA Doctors Treating the Injured in Ercis, Turkey 3
AMDA Emergency Medical Team in Ercis, Tukey has been able to respond to the continuing needs of patients who survived the earthquake of 23rd Oct. AMDA Team have been working in partnership with Kimse Yok Mu, a Turkish NGO and Turkey Japan Cultural Dialog Society.
Two doctors, one being thoracic surgeon and the other neurology specialist have been staying at a dormitory of one of the high schools in Van.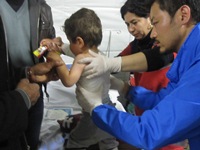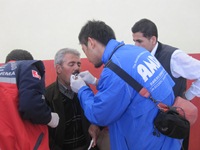 On 28th, AMDA Team treated 11 patients, and about 5 of them were with burn injury. Most of burn injuries were due to accidents when making hot water in evacuation tents. Numbers of critically ill patients has decreased dramatically however, there is an increase of patients who become ill or injured whilst rescuing people.
On 29th, on the final day of relief activity, AMDA Team treated 12 patients. Most of the patients were children aged 3 to 5 years old, and in many cases, patients' whole bodies were covered in burn.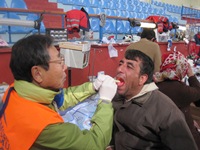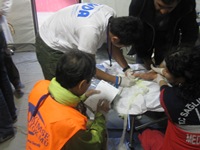 The number of critical case per day has declined rapidly to 1 case only or none by 30th and local medical teams have started to leave Ercis.
AMDA Team has also finished the Emergency Relief Activity on 30th, and will return to Japan on 31st Oct.
AMDA will send another team for assistance for rehabilitation efforts of the affected community within a couple of months' time.
A press conference on this Emergency Relief Activity in Turkey will be held at Okayama International Center on 1st Nov.