2011-11-01
The 2nd AMDA Team to Arrive in Flood-Plagued Bangkok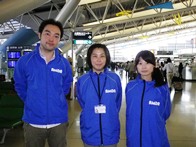 As flood water has started to seep into the city of Bangkok, AMDA Headquarters in Okayama, Japan, has decided to send in another emergency relief team consisting of one doctor and two nurses after consulting with its local partner. The team will arrive Bangkok in the afternoon of Oct. 31.
The flooding which started in mid-July has claimed at least 366 lives and affected 2.5 million people in the north, north-east and central plains of the country. The first AMDA emergency relief team which implemented a-week-long relief activity in Nakhon Sawan Province returned to Japan on the 22nd.
The seasonal high tides over the past few days may have brought in more water to the capital city and its surrounding area. In coping with this situation, AMDA is expected to implement mobile clinic services and other relief efforts utilizing a boat.