2011-11-04
AMDA 2nd Team Emergency Relief Activity Report in flood affected Thailand
AMDA's 2nd Emergency Relief Medical Team (1 doctor and 2 nurses) left Oct 31st 2011 and conducted a needs survey by a round of visit to evacuation centers located in Bangkok city, in cooperation with Rajavithi Hospital. On Nov 3rd, the team visited Suan Sunandha Rajabhat University and organized a medical outreach where they provided medicine worth 8,260 Baht including antibiotics, laxative agent, gastric coating agent, antimycotic agent and so on.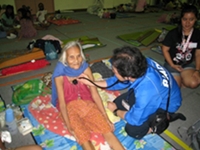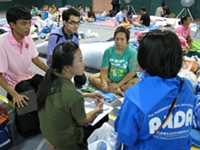 This evacuation center at the Sunandha Rajabhat University was set up on Oct 26th with the university's budget. As the evacuation center at Don Muang Airport has been also flooded and the scale had to be slimmed down, the affected people start to re-evacuate to other places including Sunandha Rajabhat University. By Nov 3rd, more than 700 evacuees were recorded as evacuees at the said university.
Teachers of nursing education and nursing students at the university take a round inside the evacuation center to check patients' vital signs. Doctors also come every day for a round, however there are not an adequate number of doctors. The evacuees do not know for how long they can stay safe at the currect place. There are many people who have developed insomnia as they continue to live under serious pressure.
Under such circumstances, the people at site received AMDA team with open arms by commenting "we are happy to see doctors and nurses coming all the way from Japan". AMDA team is planning to distribute vitamin supplements and organize demonstration lecture on 'how to take medicine' to respond to people's needs.
According to the information disclosed by Department of Disaster Prevention and Mitigation, Ministry of Interior on Nov 1st 6:00PM, there are total of 227 evacuation centers in Bangkok and only 11,388 evacuees have been accommodated despite an occupancy load limit of 71,665. This shows that people do not or cannot leave their home behind, as they are too worried about the potential flooding of their areas.
Rajavithi Hospital reported that it has been almost impossible to reach everyone at risk although the Hotline to call for rescue has been ringing non-stop,especially in the seriously flooded area of Don Muang district.
On Nov 3rd, AMDA purchased a motor boat in Chonburi Province. This boat will be utilized for transfer of patients as well as necessary medical equipment.