2011-11-08
AMDA 2nd Team conducts Health Workshop for Floods Evacuees in Thailand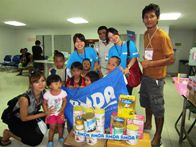 AMDA 2nd team which arrived in Bangkok on 31st October has been working on a preparation of a trailer and drivers for a test run of the boat, purchased on 3rd Nov.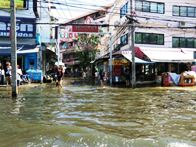 The areas affected by floods are still expanding. On 3rd Nov. the water was still 9km away from the hospital where AMDA conducted activity; however by 4th Nov. 10:00AM, the water was already approaching up to 5km away.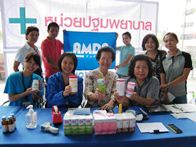 On 5th Nov., the team visited Suan Sunandha Rajabhat University and donated medicines worth 8,160 Baht. The team also organized a workshop for the evacuees so that medicine will be taken in the most effective way.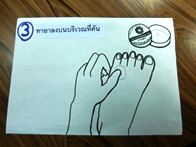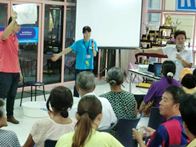 Nursing students who have been looking after people's health conditions on a daily basis, teachers, and AMDA team worked together to make visual aids on topics such as "how to take medicine" and "how to keep feet and fingers clean". The team used things that are familiar to people, such as popular ointment and a tub to explain the proper ways to keep hygiene while living in evacuation centers. Participants commented "I understand well how I should take medicine now".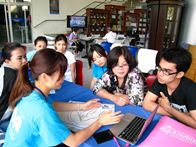 In this 2nd team, there is a member who had experienced voluntary work for AMDA's Emergency Relief Activity for Great East Japan Earthquake in Minami Sanrikucho, Tohoku. In this workshop, the member explained the importance of preventing infectious diseases by using visual materials and also introducing some lesson learned from the activities in Tohoku. As Japanese citizens who also went through the unprecedented scale of disaster, the team also expressed their sincere wish for the smooth recovery of Thailand.
Through the needs assessment, AMDA team has learnt that there has been a shortage of milk supply in many areas. On 5th Nov., the team donated milk to evacuation center at Ratchamangkala Stadium and the evacuation center at Suan Sunandha Rajabhat University on 7th Nov to respond to acute needs.