2011-11-28
AMDA's 3rd Dispatch to Thailand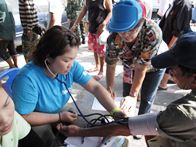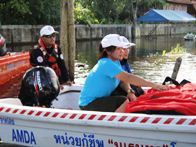 Though the worst of the crisis is over in central Bangkok, vast area in Thailand still remains waterlogged and hardship continues for local residents.
AMDA's third medical relief team was dispatched to Bangkok from its headquarters in Okayama, Japan, on Nov. 20th. The AMDA team from Japan consisting of two nurses and two coordinators, was joined by medical doctors and nurses from TAEM (Thai Association for Emergency Medicine) in Bangkok. Together they formed AMDA Multi-National Medical Mission(AMMM) and headed toward Nonthaburi Province, located to the west of Bangkok.
On Nov. 20th, 10 doctors, 15 nurses, 8 medical students and 15 nursing students participated in AMDA Multi-National Medical Mission. The team conducted mobile clinic services for the residents of the Bangkruai District and saw 335 patients. The team also delivered medical supplies and relief items such as food and water to the district office of Bangkruai. On Nov. 21st, 26 members of the team moved to Bangyai District and treated in total 297 patients at Bangkhurat Tent, a makeshift clinic, and evacuation centers housed in local temples and schools. The boat which AMDA secured for the medical purposes has proven to be quite useful as boats were in great demand in the flooded districts.
Among the various symptoms of these patients was contact dermatitis deteriorated by long hours of immersion in water. Also infection of the upper respiratory tract and muscular ache, which are said to be common symptoms at evacuation centers, were also prevalent among local presidents of Bankruai and Bangyai. Other flood disaster related symptoms were insomnia, depression, diarrhea and conjunctiva inflammation. The latter two were caused by exposure to polluted water.