2011-12-05
Follow Up on the Relief Activities in Thailand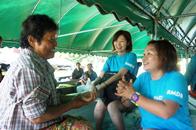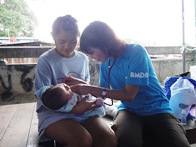 In the aftermath of the recent flood crisis, some Thai people are still struggling with flood water. The four members of the 3rd AMDA emergency relief mission arrived in Bangkok on Nov. 20th. The first relief activity was carried out in Nonthaburi Province in collaboration with the members of TAEM (Thai Association for Emergency Medicine). Please refer to the previous news bulletin of Nov. 28th for further details of this activity.
Following its successful relief activity in Nonthaburi Province, AMDA implemented another medical relief in Pathum Thani District of Pathum Thani Province, north of Bangkok, on Nov. 23rd. Together with 71 local doctors and nurses from TAEM, the team offered medical care at the evacuation center housed in a local high school. They also visited Village 1 of Tambon Bang Phun. In total 243 people were treated on this day alone. Among the main symptoms were joint pain, muscle ache, upper respiratory infection, and dermatitis. Treatments were also administered to chronic diseases such as hypertension and diabetes.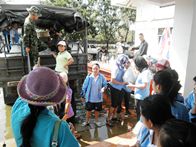 The whole Village 1 of Tambon Bang Phum has been under water with floodwaters up to 1 meter deep in some spots. The number of evacuees in this particular locale has climbed to 200. There has been an acute shortage of clean water causing poor sanitary condition in Tambon Bang Phun. To cope with this problem, AMDA team distributed items such as detergents, soaps, tooth brushes, tooth pastes, skin powder, wet towels, and milk for 200 households.
On Nov. 26th, AMDA team worked with 40 medical volunteers to conduct mobile clinic service and distribute relief goods in Tambon Salaya, Maha Sawat, and Khlong Yong, located in Phutthamonthon District of Nakhon Pathom Province. Shelf stable milk, sanitary napkins, mosquito repellent gel, disinfectant alcohol gel, and disposable diaper were handed out to the people of the communes. Furthermore at Maha Sawat healthcare center, AMDA instructed local residents on hand hygiene.
On Nov. 24th, an emergency drill was held at Rajavithi Hospital in Bangkok to prepare for future flood disasters. Evacuation procedures and triage decision were reviewed and drilled under the assumption that the hospital building was flooded.
The members of the 3rd AMDA emergency relief mission to Thailand completed its medical mission and returned to Japan on Nov. 27th.