2011-12-26
AMDA Medical Team Helping the Victims of Mindanao Typhoon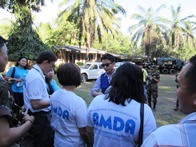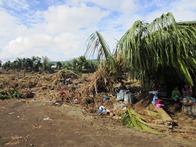 AMDA has launched emergency medical relief activities for the victims of the Typhoon Sendong(Washi) that swept across the Mindanao region in southern Philippines from Dec. 16 to 17. The most fierce storm in decades dropped a month's worth rain in 24 hours causing massive flooding, flash floods and landslides. As compared to the northern part of the country, Mindanao, an island located in the south, was not so much affected by tropical storms in the past. Thus many of the residents were unprepared and this may account for the delay in evacuation. According to the report by NDRRMC(National Disaster Risk Reduction Management Council) issued Dec. 25, the devastating storm has killed 1,100 people, injured 1,979 and left 1,079 missing.
The AMDA team of one nurse and one coordinator left Japan on Dec. 21st. The coordinator, a native of Mindanao and present resident of Kurashiki, Japan, is an active member of KPC(Kurashiki Pilipino Circle). The team was met by a member of the Armed Forces of the Philippines(AFP) upon their arrival in Manila. After planning out relief activities in the affected area, they procured medical supplies following the advice of a military doctor. The doctor has also mentioned of the need for emotional and psychiatric support for the affected people.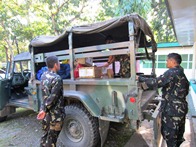 On Dec 22nd, AMDA team together with two members of AFP flew from Manila to Mindanao. There they were joined by another AMDA team from AMDA Indonesia consisting of two doctors. The joint team moved to Cagayan de Oro and carried out damage assessment and procurement of necessary items. Mobile clinic services were provided on Dec 24th and 25th in Cagayan de Oro which were hard hit by the storm.
The coordinator of AFP has informed us that the most urgent problem is that of the water. As of now the local residents have no access to water, both for drinking or other daily purposes. The numbers of evacuees or evacuation shelters have not yet been made official but no doubt the victims of Typhoon Sendong are left in harsh conditions.